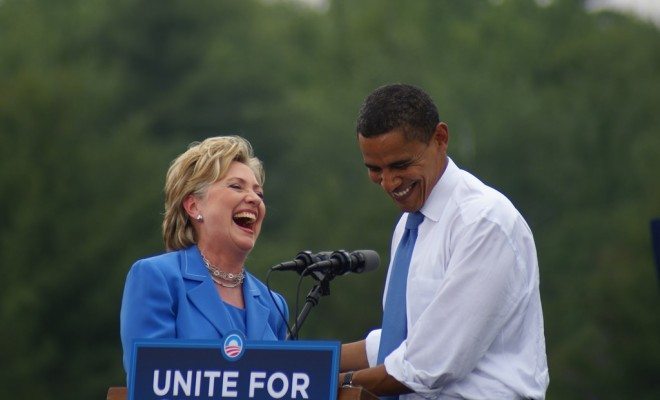 "Hillary Clinton & Barack Obama Laughing" [Courtesy of Marc Nozell Via Flickr]
Politics
The Challenge of Merging Comedy with Politics in the 'Age of Authenticity'
By
|
Framed by two plotted plants, a conversation President Barack Obama had with comedian Zach Galifianakis in March 2014 might have provided the boost his Affordable Care Act needed to avoid crumbling after a botched rollout. The following day, healthcare.gov saw a 40 percent spike in page views. Obama's appearance on "Between Two Ferns"–Galifianakis's popular online sketch series–reflected his efforts to convey a vital message through viral means. And in the cozy, modern Knight Conference Center at Washington D.C.'s Newseum on Friday–a day before Obama's final White House Correspondents Dinner–a collective of comics with experience working alongside Obama and the First Lady, Michelle Obama, discussed outreach initiatives designed to connect with Millennials where they so often dwell: online.
"To some degree I wouldn't know what people would talk about if we weren't talking about talking about Millennials," dead panned Mike Farah, President of Production for Funny or Die, which produces Galifianakis's "Between Two Ferns."
The discussion, moderated by Politico's Mike Allen, aimed to examine the "intersection of politics and comedy", which, as Billy Eichner, host of truTV's "Billy on the Street" and a participant on Friday's panel framed it: "Pop culture and politics are one this year."
And indeed they are. Presidential candidates in both parties are as big of fixtures on late night comedy shows as they are fodder for broadcast news and political pundits. While caricatures of candidates during an election year on "Saturday Night Live" are hardly a new concept, the proliferation and hyper-interactivity of social media platforms has heightened and intensified the playgrounds of politics and comedy. As presidential hopefuls make headlines, they make memes in equal or greater number to be spread like a forest fire on today's popular community platforms: Twitter, Facebook, Reddit, Instagram, and Snapchat.
"With social media platforms, with everyone being active and engaged on those, its made everyone a comedian," said Farah, who in 2010 The Hollywood Reporter named one of the top 35 executives in Hollywood under 35. "Someone can say one thing and literally there'll be a meme about it two seconds later. It's almost like a race to see who can say the first thing."
The participants in that race tend to fall in the Millennial generation or younger–now dubbed Generation Z–people Obama and especially the First Lady have attempted to engage through viral videos, often produced by Funny or Die and disseminated via social media platforms like Twitter.
Eichner, who also stars on Hulu's "Difficult People," scoffed at the idea of pandering to a specific audience, especially Millennials.
"Can I be honest? I don't care about Millennials at all!" he said to a room of nervous laughter. "I'm not going to dictate what I do by what a Millennial may or may not like."
But the Obama Administration certainly does. The worlds of comedy and politics germinate from two very different cities, increasingly two poles of the same spectrum: Los Angeles and Washington, respectively. What the president and First Lady seem to understand is that to truly get their message to gel, Hollywood and the Hill must co-exist.
David Litt recognizes the difficulty in merging message and meme.
"L.A. is really good at getting attention and creating things that people want to watch," said Litt, the only Millennial onstage on Friday and the lead speechwriter on four of Obama's WHCD speeches, which riff and roast on politics and the president himself. "People in D.C. are really good at figuring out what the message is and trying to get that message out. Sometimes It's really hard to get those things to connect."
The event's four guests (Joanna Rosholm, Michelle Obama's Press Secretary joined the three comics on stage) were in consensus about the primary challenge in connecting with today's ultra tech literate audience: authenticity.
"[young people] know that if they tried to water down 'Between Two Ferns' everyone is going to say 'that sucks, that's lame'," said Eichner. "We're in an age of authenticity."
To keep up with the never ending, content sharing Internet cycle while maintaining authentic content, they agreed, can pose a real challenge
"[The goal is] to make good stuff in that cycle and to not become beholden to the culture," Farrah explained.