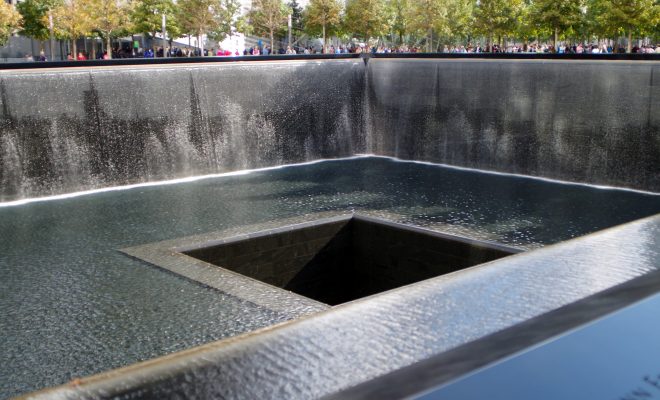 Image Courtesy of [Mike Steele via Flickr]
Politics
As 15th Anniversary of 9/11 Looms, House Passes 'Sponsors of Terrorism Act'
By
|
Nearly 15 years ago, after hijacked airplanes took down the World Trade Center buildings, punctured a hole in the Pentagon, and crash-landed on an airstrip in Pennsylvania, lawmakers stood on the steps of the U.S. Capitol building and sang "God Bless America." On Friday, lawmakers gathered once more to sing Irving Berlin's 1918 tune, and to commemorate the victims of the September 11, 2001 terrorist attacks with a moment of silence. Soon after, the House passed a bill that would allow families of 9/11 victims to sue the government of Saudi Arabia, which some believe played a role in the trio of attacks that took nearly 3,000 American lives.
Sponsored and supported by a bi-partisan collection of lawmakers, the Justice Against Sponsors of Terrorism Act has now passed both the Senate–which it did in May–and the House. It cleared both chambers by a unanimous voice vote. The bill's text reads:
The purpose of this Act is to provide civil litigants with the broadest possible basis, consistent with the Constitution of the United States, to seek relief against persons, entities, and foreign countries, wherever acting and wherever they may be found, that have provided material support, directly or indirectly, to foreign organizations or persons that engage in terrorist activities against the United States.
Though it successfully passed through the House and the Senate, an accomplishment given the polarized climate of American politics, the bill is not guaranteed to be signed into law. Since its inception, President Obama has said he would veto the legislation.
"This legislation would change long-standing, international law regarding sovereign immunity," White House spokesman Josh Earnest said in May, after the bill cleared the Senate. "And the president of the United States continues to harbor serious concerns that this legislation would make the United States vulnerable in other court systems around the world." If he chooses to veto the bill, it would be the first override of a bill during his presidency.
Saudi Arabia has long been suspected of playing some sort of role in the 9/11 attacks–15 of the 19 perpetrators were Saudi citizens. With the release of 28 previously disclosed pages on its involvement in July, efforts to hold them accountable have heightened.
White House official's concern, they say, is that passing the bill could set a dangerous precedent which foreign governments could use to sue U.S. citizens or government. In an interview with CNN's Jake Tapper on Thursday, Terry Strada, whose husband was killed in the New York attack, said that she and other victims' families simply are looking for accountability.
"We're just going to hold people accountable for terrorism acts, for funding and financing terrorist acts on United States soil that kills American citizens." she said. "As long as we're not funding terrorist groups, and we're not causing terrorist attacks in other countries, we don't have anything to worry about.