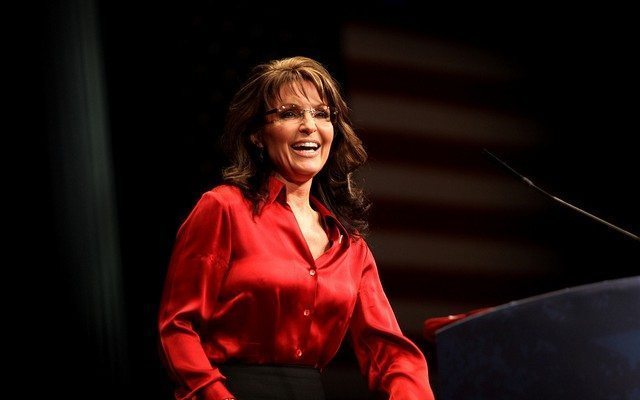 Sarah Palin Courtesy of [Gage Skidmore via Flickr]
Politics
Apparently Sarah Palin Doesn't Need a Law Degree to be the Next Judge Judy
By
|
Americans struggling with real-life small court claims may soon have a new television bigwig to try their cases in the court of public opinion. Former Alaskan Governor Sarah Palin is rumored to have plans to add court TV judge to her reality television resume by starring in a new Judge Judy-style court room reality show.
A "source close to the process" told People that Palin signed a production deal in February with the Montana-based production company Warm Springs.
A signed production deal would imply that Palin could soon begin filming a pilot of the show to shop around to networks.
But wait a second, don't you have to have an actual J.D. to be a judge?
Well, not exactly.
Technically court TV shows are essentially dramatized arbitration cases on TV sets that look like small claims courts. When not using actors, producers of these shows typically try to contact parties with pending litigation in small claims courts, and give them the opportunity to settle the case through arbitration on TV instead. Arbitration is a type of dispute resolution where parties mutually agree to let a third party arbitrator settle the case for them outside of court. This type of legal proceeding is ideal for people looking for a faster and cheaper litigation alternative. Arbitrators, however, are not required to have a law degree to settle cases.
For more information read "What's the Verdict? The Truth Behind TV Court Shows" here.
While the actual job qualifications vary from state to state, most arbitrators are required to hold at a minimum a bachelor's degree and complete training through a basic 40-hour course and 20 additional hours in advanced coursework.
Even without a law degree, cases settled through arbitration are legally binding and in most cases cannot be appealed.
Many court TV judges like Judge Judith Sheindlin, aka Judge Judy, and Judge Joe Brown do have actual law degrees, but it is entirely possible for Palin to become a court TV judge without one.
It also doesn't hurt that she already has plenty of experience in front of the camera after working as an on-air contributor for FOX News and starring in her TLC reality show "Sarah Palin's Alaska" in 2010. In 2014 Palin also launched "Amazing America with Sarah Palin," an outdoor-themed show on The Sportsman Channel.
According to People's source, "Palin's telegenic personality, wide appeal and common sense wisdom make her a natural for this kind of format and she was Warm Springs' top pick for this project."
Since these are merely rumors that we're talking about here, and no confirmation has been released from Palin's camp, it's hard to say what direction Palin could take with the show.
Needless to say if this does become a real show, I will be watching with same intrigue of someone watching a house catch fire. You know before you see it that it's probably going to be sad, but at the same time you can't make yourself look away from the flames.