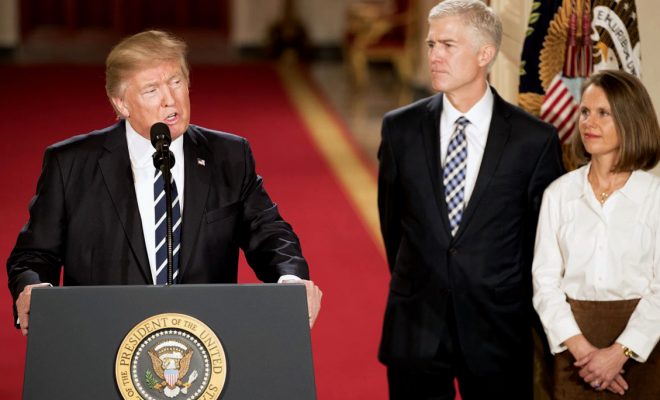 Image Courtesy of White House official photographer; License: public domain 
Law
Trump's Supreme Court Nominee Neil Gorsuch: Five Key Rulings
By
|
Tuesday evening, the process of filling the vacant Supreme Court seat began, when President Donald Trump nominated Neil Gorsuch to succeed conservative Justice Antonin Scalia, who passed away last February. At 49, Gorsuch is the youngest Supreme Court nominee in 25 years and, if confirmed, would restore the 5-to-4 conservative bent of the court, which has been ideologically split since Scalia's passing.
Gorsuch, a Denver native who practiced law in Washington D.C. and was in the same class as President Barack Obama at Harvard Law School, is widely seen as fitting the right-wing mold of Scalia. He has served for nearly a decade on the U.S. Court of Appeals for the 10th Circuit in Denver, and earlier in his career, clerked for two Supreme Court justices, Justice Byron White and Justice Anthony Kennedy. Here are five cases which provide a window into Gorsuch's judicial philosophy:
Hobby Lobby Stores, Inc. v. Sebelius
One of the mandates in the Affordable Care Act is that employers must provide their employees with health insurance that covers contraceptives. In 2013, the owner of an Oklahoma-based arts-and-crafts chain, Hobby Lobby, challenged that mandate at the 10th Circuit appeals court. David Green argued that the ACA's mandate infringed upon his religious liberty; providing health insurance that covered contraceptives went against his Christian faith.
Gorsuch, and four of his colleagues, agreed, and Green won the challenge. The Supreme Court later affirmed the 10th Circuit's ruling. "As the Greens explain their complaint, the ACA's mandate requires them to violate their religious faith by forcing them to lend an impermissible degree of assistance to conduct their religion teaches to be gravely wrong," Gorsuch wrote in his concurring opinion.
Yellowbear v. Lampert
Andrew Yellowbear, an inmate at a prison in Wyoming, sued the director of the Wyoming Department of Corrections for denying him access to the prison's sweat lodge. As part of his Native American heritage and religious beliefs Yellowbear, serving a life sentence for murdering his daughter, wished to use the sweat lodge for prayer and meditation. In 2014, Gorsuch and his colleagues at the 10th Circuit court agreed with the plaintiff, and reversed an earlier district court ruling.
Writing in the majority opinion, Gorsuch said: "While those convicted of crime in our society lawfully forfeit a great many civil liberties, Congress has (repeatedly) instructed that the sincere exercise of religion should not be among them — at least in the absence of a compelling reason. In this record we can find no reason like that."
A.M. v. Holmes
In May 2011, a seventh grade student in Albuquerque, New Mexico interrupted a gym class by making fake burping sounds. He was arrested and charged with a misdemeanor. The student's mother brought a case against the school's principle and the police officer to a district court in New Mexico. The judges ruled in favor of the defendants, and last summer, the case wound up in the U.S. Court of Appeals for the 10th Circuit.
The justices confirmed the decision of the lower court, and sided with the defendants–the school and police. But Gorsuch disagreed with the majority opinion. "If a seventh grader starts trading fake burps for laughs in gym class, what's a teacher to do? Order extra laps? Detention? A trip to the principal's office? Maybe," he wrote in his dissenting opinion. "Respectfully, I remain unpersuaded."
American Atheists Inc. v. Davenport
In 2010, the U.S. Court of Appeals for the 10th Circuit found that memorial crosses that ran along a highway in Utah were unconstitutional as an "endorsement of religion" by the government. Gorsuch and three of his fellow justices disagreed with the majority on the case. The Supreme Court declined to hear the case in 2011.
In his dissenting opinion, Gorsuch cited a Supreme Court precedent that found roadside memorial crosses "need not be taken as a statement of governmental support for sectarian beliefs." He also said the court's finding that a "reasonable observer" might not be able to read the names on the crosses as they drove past, and thus that they could interpret the crosses as a government endorsement of Christianity is a moot point. "Most Utahans, the record shows, don't even revere the cross," he added.
Direct Marketing Association Inc. v. Brohl
This case centers around a 1992 Supreme Court decision, Quill Corp. v. North Dakota, which found that if an online retailer does not have a physical presence in a state (like Amazon), it is not required to collect a state sales tax. But an online retailer that does have a physical presence in a state (like Best Buy), is required to collect a sales tax.
Colorado enacted a law in 2010 that forced online retailers, no matter their brick-and-mortar presence in the state, to collect a state sales tax. Direct Marketing Association, a group of businesses, challenged the law in court. Last February, the case ended up in the 10th Circuit appeals court in Denver. The court reversed district court rulings in favor of the DMA, and found that the law does not "discriminate against nor does it unduly burden interstate commerce." Gorsuch concurred.