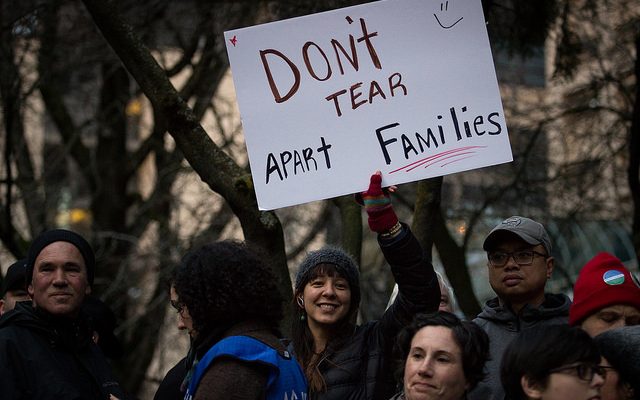 "Latinx Rally - Defend DACA!" Courtesy of Joe Frazier Photo License: (CC BY 2.0)
Law
Trump Gives Dreamers a Temporary Reprieve
By
|
The Dreamers are here to stay–for now. Late Thursday night, Department of Homeland Security Secretary John Kelly issued a press release and Q&A page on the department's website announcing a two-year expansion of President Obama's 2012 DACA policy, which protects immigrants who came to The United States as children. These children are commonly known as "Dreamers."
It's a surprising move by the Trump Administration. During the campaign, Trump once said that Obama's 2012 DACA program "defied federal law and the Constitution" and vowed to end the program if elected.
DACA, or Deferred Action for Childhood Arrivals, was an executive order issued by President Obama in 2012 designed to protect children who entered the U.S. as minors from being deported. While DACA does not provide citizenship to those who qualify, it prevents them from being deported from their established lives in the United States and makes them eligible for work permits.
A sister program known as DAPA, for the parents of American citizens and lawful permanent residents, was blocked a few years earlier by a federal judge in Texas who declared that the program overstepped the president's constitutional authority. Last week's announcement formally rescinded the program, although it had never actually been implemented.
This change in immigration policy was praised by members of the immigration community, but to Trump's hardline supporters, it may be seen as a betrayal of one of his key campaign promise on immigration.
However, aides to the president and representatives from Homeland Security confirmed that the DACA program is only under a temporary extension. Assistant Secretary for Public Affairs Jonathan Hoffman stated that it is still up to Congress to form a long-term solution to the immigration debate. This means that when the extension of DACA ends in just two years, the 'Dreamers' could still face deportation in the absence of a further extension or legislative solution.
But for now, it looks as if the Dreamers are safe to stay, that is unless Trump changes his mind.