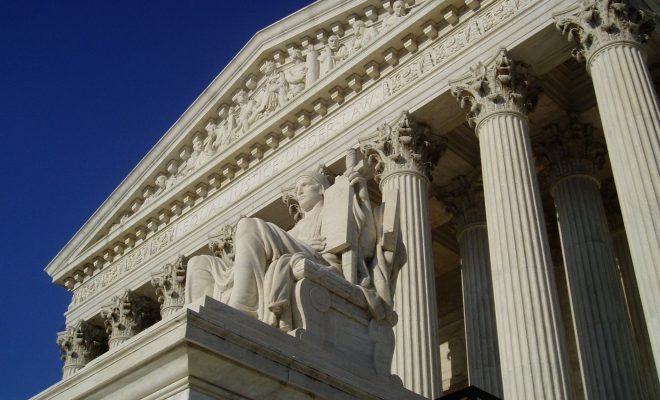 "Supreme Court" courtesy of [Matt Wade via Flickr]
Law
Supreme Court Decision Prevents Domestic Abusers from Owning Firearms
By
|
This post is part of Law Street's continuing analysis of the recent Supreme Court rulings. To read the rest of the coverage click here.
---
Gun Control: Voisine v. United States
The decision: The 6-2 ruling prevents anyone convicted of "reckless domestic assault" from being able to own firearms.
Some background
This case involves two men from Maine, Stephen Voisine and William Armstrong III, who were convicted of unlawfully possessing firearms due to previous convictions for domestic assault. Under both state and federal law, anyone with a domestic violence conviction cannot possess firearms.
Both men claimed that, under federal law, they were allowed to own firearms because their convictions were deemed "reckless" conduct rather than "knowing" or "intentional."
Under Maine state law, it is a misdemeanor to "intentionally, knowingly, or recklessly" cause bodily harm to another person. The Federal law, however, only mentions "intentionally" or "knowingly" causing harm as a misdemeanor, so Voisine and Armstrong tried to claim that their convictions fell under "reckless" domestic assault. As a result, they claimed that under federal law they were lawfully allowed to possess firearms despite their misdemeanor convictions.
While this may seem like a minor technicality, it would've potentially allowed people convicted of misdemeanor domestic assault to be able to lawfully own firearms.
The Court shut these claims down by ruling that "reckless domestic assault qualifies as a 'misdemeanor crime of domestic violence.'"
Justice Thomas' Dissent
Justice Clarence Thomas, one of the two justices who did not join the majority decision, wrote a scathing dissent accusing the decision of being restrictive of Second Amendment rights. He wrote in his opinion:
We treat no other constitutional right so cavalierly. At oral argument the Government could not identify any other fundamental constitutional right that a person could lose forever by a single conviction for an infraction punishable only by a fine.
This isn't the first time that Justice Thomas has been outspoken on this case. Back in February, Thomas famously broke a 10-year streak of never asking a question during oral arguments for this same case. With his question, he claimed that the federal laws that prevented domestic abusers from obtaining firearms were in violation of constitutional rights.
What does today's ruling mean?
While it was technically already illegal for anyone with a misdemeanor conviction of domestic assault to own a firearm, today's ruling just closed a loophole. It demonstrated the court's general support for some gun control measures by offering greater protections to victims of domestic violence.
The decision was another win for advocates of stricter gun control measures.
Read the full opinion here.