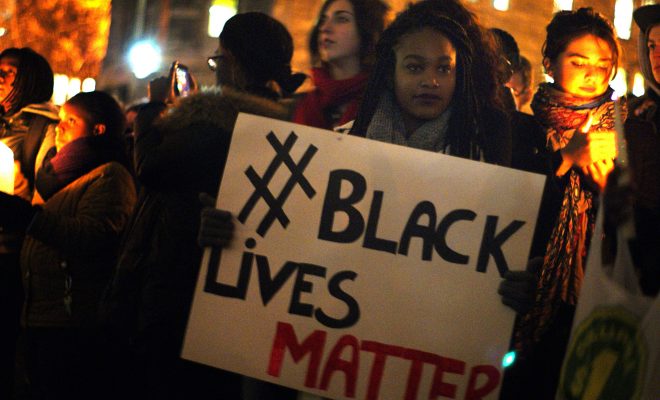 Image Courtesy of Gerry Lauzon; License: (CC BY 2.0)
Law
Officer Who Killed Walter Scott Pleads Guilty to Civil Rights Charge
By
|
Michael Slager, the former North Charleston police officer who shot and killed Walter Scott in April 2015, pleaded guilty on Tuesday to charges that he violated Scott's civil rights by using excessive force. As part of the plea agreement, federal prosecutors will drop the murder charges against Slager. The murder was one of a spate of instances in which a white officer was filmed killing an unarmed black man, and added fuel to the Black Lives Matter movement.
"The defendant willfully used deadly force even though it was objectively unreasonable under the circumstances," the plea agreement says, according to the Associated Press. "The defendant acknowledges that during the time he used deadly force, he knew that the use of deadly force was unnecessary and excessive, and therefore unreasonable under the circumstances."
Scott's death was a galvanizing moment for the Black Lives Matter movement during a year in which, according to a Washington Post database, at least 38 unarmed black men and women were shot and killed by police. The bloody April 4, 2015 episode began as a routine traffic stop. After Slager pulled over Scott's Mercedes Benz because of a broken taillight, the 50-year-old Scott ran away.
A video, filmed by a local barber, captured the rest of the scene: the two men began to tussle over Slager's Taser. Scott once again fled from Slager, who fired eight shots at his back; five hit their mark, killing Scott, and igniting national outrage. Slager was immediately fired and, a few days later, charged with murder. Last December, the murder trial ended in a hung jury.
Slager was facing two life sentences: one for the murder charge, and one for the civil rights charge. Because he entered a plea deal, it is unlikely Slager will face life in prison. Slager appeared in federal court for a hearing on Tuesday. Local journalists captured the scene:
The family of Walter Scott entering the courthouse #walterscott #MichaelSlager @postandcourier pic.twitter.com/EurZ42ZtTM

— Michael Pronzato (@MichaelPronz) May 2, 2017
The hearing lasted less than 30 minutes. #WalterScott's family wiped away tears as the details of their loved one's death were retold.

— Janae Frazier (@JanaeFrazier) May 2, 2017
Plea deal does not state possible sentence. Charge carries between no prison time and life behind bars. #WalterScott #chsnews

— Andrew Knapp (@offlede) May 2, 2017