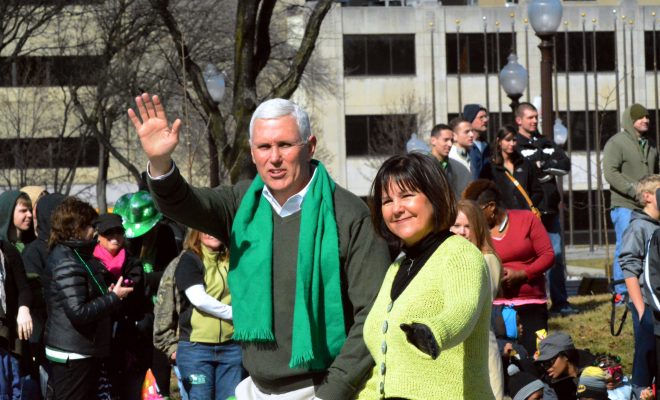 Image courtesy of [Steve Baker via Flickr]
Law
Innocent Man Seeks New Trial After Governor Mike Pence Declined Pardon
By
|
Republican Vice Presidential nominee Mike Pence is being criticized for his response to a controversial case in which a man was wrongfully convicted. Now the man is asking to go back to court for another trial since Pence, as Indiana's Governor, won't grant him a pardon until he has tried all other judicial options.
Keith Cooper spent almost ten years in prison for armed robbery, a crime he didn't commit but was wrongfully convicted for in 1996. During the robbery a teenager was shot in the stomach but survived. When another man involved in the case had his conviction overturned because of new evidence that surfaced in 2005, authorities offered Cooper a new trial, which could take at least two years–or the chance to go home to his family but have a felony conviction on his record.
After being locked up for a decade, Cooper chose the latter. He could finally see his wife and three children again. But since it's been next to impossible to find a decent job as a convicted felon, he later sought a gubernatorial pardon. In the spring of 2014 the parole board in Indiana unanimously urged Pence to grant Cooper a pardon. This would likely have been the first pardon based on actual innocence in Indiana history.
Mike Pence refuses to pardon an innocent and wrongly convicted man, yet GOP runs a willie horton ad attacking Kaine https://t.co/389BIxtBcQ

— geokaren (@geokaren) October 4, 2016
And according to DNA evidence, Cooper is innocent. The victims and original prosecutor believe in Cooper's innocence as well. But despite that fact, Pence's office said in a September 20 letter that Cooper must first try all other judicial options. Basically that means Pence doesn't have to make a decision about granting a pardon before he leaves office in January.
Many of Cooper's supporters wanted the case to be brought up at the Vice Presidential debate on Tuesday.
Mike Pence should be asked why he has not pardoned Keith Cooper, an innocent man wrongly imprisoned for ten years. #VPDebate #KeithCooper

— Mike Williams (@drummike2012) October 4, 2016
Can't believe @mike_pence said this during the #VPDebate Actions speak louder than words! #PardonKeithCooper @ElliotSlosar pic.twitter.com/5WHwWC7at4

— Pardon Keith Cooper (@PardonKeith) October 5, 2016
Cooper's attorney Elliot Slosar said:
The lack of courage displayed by Gov. Pence is shocking. Instead of using his executive power to change the life of an innocent man, Gov. Pence has decided to punt this issue to the next governor of Indiana and inform Mr. Cooper that he needs to head back to the same court where he got wrongfully convicted in the first place.
But Pence's deputy of staff chief Matthew Lloyd replied:
The governor's office believes this is a necessary and proper approach that will produce information the governor will need as he considers a pardon for Mr. Cooper.
Pence has only pardoned three people during his three years as governor, while his predecessor Mitch Daniels pardoned 60 people during eight years in office. The Cooper case has gained serious support on social media as well as on an online petition–we'll have to see if it has any effect on Pence's numbers.