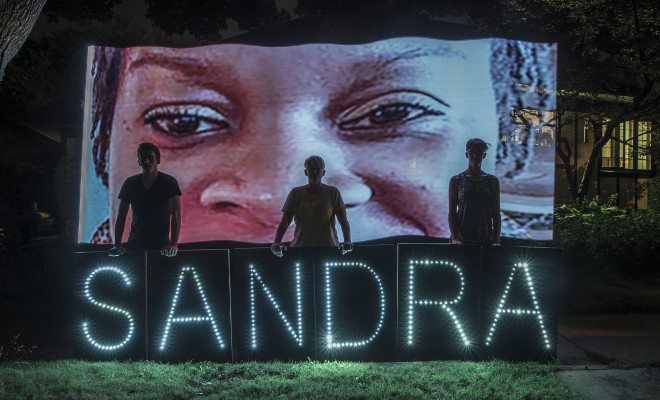 Image courtesy of [Light Brigading via Flickr]
Law
Grand Jury Declines to Indict Prison Staff for Death of Sandra Bland
By
|
In a move that surprised probably no one, but saddened many, a Texas grand jury declined to indict any of the jail staff for the death of Sandra Bland. Bland, 28, was found dead in her cell at the Waller County Jail after being arrested during a routine traffic stop. While her death was ruled a suicide, the entire nature of the situation–the seemingly excessive force used during the stop, and the mysterious circumstances surrounding her untimely death–raised suspicions and criticisms. The grand jury will be meeting again to determine charges against others, including Officer Brian Encinia who originally pulled Bland over and arrested her, but many are pessimistic that charges will not be filed against him either.
Sandra Bland is another entry on a horrifyingly long list of Black Americans who have died at the hands of police officers or in police custody; the police officers or other officials involved in their deaths have overwhelmingly not been charged with any wrongdoing. Bland's family has called the grand jury procedure that ended in no indictments a "sham," and the family is moving forward with a wrongful death suit against state and local authorities.
It's surprising, in a legal sense at the very least, that the grand jury didn't find any wrongdoing on the part of the jail staff. The forms filled out when she was brought to jail do indicate that she was depressed and had exhibited suicidal tendencies in the past–that should have led to jail officials keeping a closer eye on her, per procedures from the Texas Commission on Jail Standards.
But there are multiple other instances throughout Bland's case where strong arguments can be made that the law was broken–beginning with the traffic stop that landed her in jail in the first place. What happened during that stop isn't so much at issue; video from Encinia's dash cam as well as a bystander video has long been available to the public. The stop itself was seemingly legal–although there are certainly very convincing concerns about whether or not she would have been stopped in the first place had she been white–but Encinia's actions after that point are questionable.
The stop quickly escalated into an argument over Bland's cigarette that ended with Encinia pulling Bland out of the car and arresting her–yet that flies in the face of a recent Supreme Court ruling that states that routine traffic stops can't be extended unless there's evidence that the driver has committed another crime, or there's a safety issue in play. So, the question of whether or not the altercation that led to her arrest stemmed from a legal action on her part will be one that the grand jury has to weigh in its probing of Encinia's actions.
So, questions about Sandra Bland's treatment certainly aren't over, but the fear that Encinia won't face any charges seems warranted. As Cannon Lambert, one of the attorneys representing the Bland family, stated "if he [officer Encinia] was going to charged, you'd think he'd be charged already. The evidence that they need is flat out on the videotape."