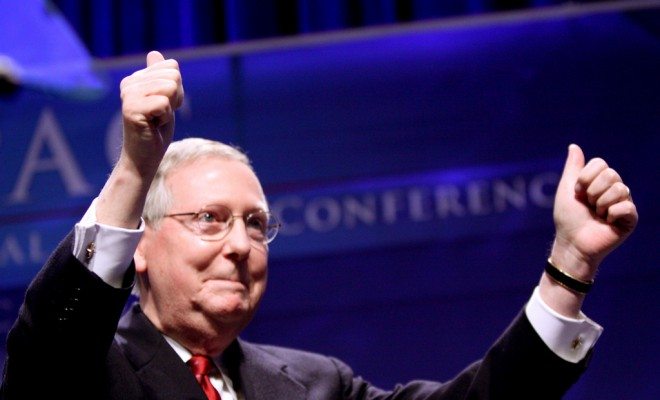 "Mitch McConnell" courtesy of [Gage Skidmore via Flickr]
Law
Americans Tell the Senate: #DoYourJob
By
|
Yesterday, President Barack Obama nominated Merrick Garland to the Supreme Court to fill the vacancy left by the death of Justice Antonin Scalia. Since Scalia's death, Senate Republicans have been vowing that they will not hold hearings on whoever Obama nominates, because he's in the last year of his office. But with Garland as his choice, Obama is essentially calling their bluff–Garland is by most accounts a moderate, and has received Republican support in the past. So, will the Senate Republicans continue to block Garland? Or will they "do their job?"
The news that Obama had chosen Garland as his nominee led to predictably mixed reactions around Washington. As expected, Republican leaders, including Senate Majority Leader Mitch McConnell and Senator Chuck Grassley, who chairs the Senate judiciary committee, both stuck to their lines that a new justice shouldn't be chosen until the next President is in office.
A few Senate Republicans did acknowledge that the Senators should at least meet with Garland and vet him–Senator Susan Collins of Maine said:
I believe that we should follow the regular order in considering this nominee. The Constitution's very clear that the president has every right to make this nomination, and then the Senate can either consent or withhold its consent.
A few other Republicans, including Senator Jeff Flake, admitted that they would consider nominating Garland in a lame duck session if Hillary Clinton (or another Democrat) is elected in November.
As expected, most Democrats responded to the Republican blockade with frustration. The senior-most Democrat on the Senate Judiciary Committee, Senator Patrick Leahy stated:
There is more than enough time for senators to publicly and thoroughly examine Chief Judge Garland's qualifications and vote on his confirmation before Memorial Day. For more than 40 years, the Senate has held a confirmation vote on Supreme Court nominees on average 70 days after their formal nomination. The Senate should afford Chief Judge Garland the same process with a fair and public hearing in April, and the full Senate should vote on his confirmation by May 25.
Many politicians, pundits, and celebrities also took to Twitter with the hashtag #DoYourJob, encouraging the Senate Judiciary to consider Garland.
You can call the Senate Judiciary Committee directly at 202-224-5225 and ask them to do their job. A person answers. #DoYourJob

— Andy Richter (@AndyRichter) March 16, 2016
My thought as I sit down to work on edit: if I REFUSED to do it, I wouldn't get paid or have a job. Why are Senators different? #DoYourJob

— Elizabeth Eulberg (@ElizEulberg) March 17, 2016
They did. Clearly and definitively. Didn't elect him for a term that ended 2/14/2016, dude. #DoYourJob https://t.co/FYFXHhUqDk

— Karoli (@Karoli) March 16, 2016
Refusing to even consider Merrick Garland is an unprecedented level of partisan obstruction. #DoYourJob pic.twitter.com/iYfTcun2KE

— Judy Chu (@RepJudyChu) March 16, 2016
Despite the fact that Senate Republicans are claiming that they refuse to hold hearings on a SCOTUS nominee to "give Americans a voice," Americans don't exactly seem to agree. A poll conducted earlier this month found that 66 percent of respondents think that the Senate should at least hold hearings and vote on a nominee. Additionally, 55 percent disagreed with the Senate's decision to "not consider" a nominee offered by Obama. At this point, Senate Republicans probably won't end up considering Garland, but as a result, they may have to pay for it in the polls.