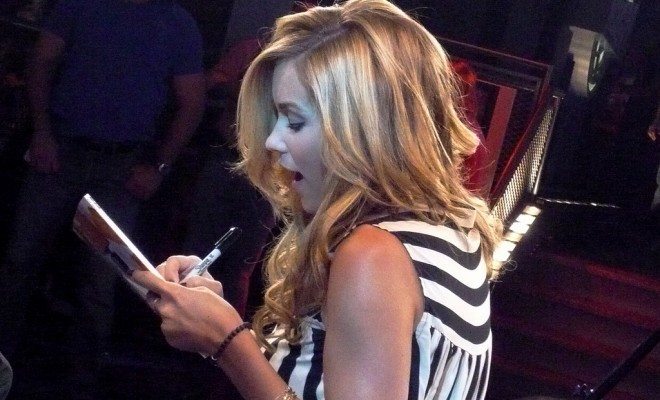 "Lauren Conrad" courtesy of [bethanyislike via Flickr]
IP & Copyright
Surfing Dogs and Stolen Photos have Lauren Conrad in Hot Water
By
|
This week, in weird (and mostly irrelevant) legal news, Lauren Conrad is being sued for having several photos of surfing dogs on her website, without having any kind of copyright permission to do so–what a tragedy.
The "Laguna Beach" superstar allegedly used these photos without permission from the company that owns them, Incredible Features Inc. (IFI). The company, which claims to provide "unique images for the curious mind," found these photos in a blog post on Conrad's site from October of 2014, and decided to file a lawsuit against her for this violation of copyright law.
Pause. Let's talk about copyright laws for a moment, to better understand what Conrad's actions actually mean. As far as a basic overview goes, copyright laws are in place to protect intellectual property, which is defined by Merriam Webster as "property (as an idea, invention, or process) that derives from the work of the mind or intellect." What exactly qualifies as intellectual property then? Pretty much anything you can think of that comes from an idea someone had–images, songs, graphics, designs. The list could go on and on.
Be warned! Just because something isn't registered with the Library of Congress Copyright Office doesn't mean it's fair game, either. People hold the rights to their own intellectual property starting the second they create it, unless they give express permission for others to use and share whatever the item may be–in this case, pictures of surfing dogs. Honestly, this is probably where Conrad went wrong. In the age of easily accessible media it's so simple to right click, download, and re-upload pictures from almost everywhere. People frequently forget that using other people's property without their permission is a serious problem–one you can be sued for.
IFI wrote some pretty ironic lines in its request for Conrad to take the pictures down:
In the dog eat dog world of online content … Lauren Conrad, a sophisticated website operator, is cognizant of the value of high-quality photography.
Ah, the classic dog eat dog world pun. In addition to wanting Conrad to take the photos down (which it appears she already has), IFI is asking that she pay whatever money she may have earned thanks to using the photos of the adorable aquatic pups. Conrad's response to this whole situation are still pretty unclear. TMZ, the original releaser of these lawsuit details, claims it reached out to Conrad for comments, but hasn't heard back from the star yet.
The moral of the story here is to pay attention to the things you're putting on the the internet and make sure you are using other people's material appropriately. If you don't? You might end up getting sued, and who in the world has the time for that. I mean, come on, it's not that hard to find fun media of dogs surfing that you can use without getting into trouble!