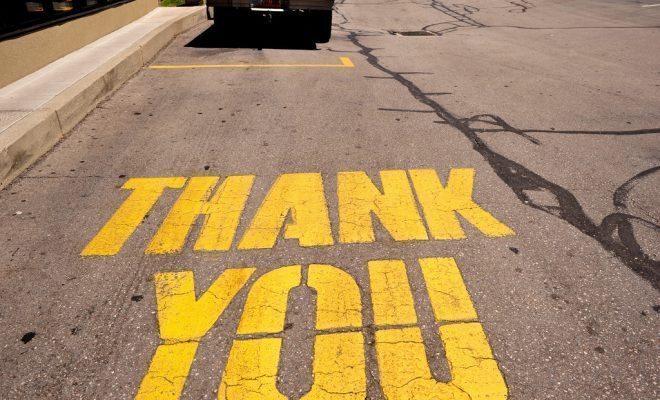 "Thank You" courtesy of [Nate Grigg via Flickr]
IP & Copyright
Citigroup, Owner of "Thank You," Sues AT&T for Using "Thanks"
By
|
Citigroup, the banking company with over $1.7 trillion dollars in assets, really likes to say "Thank you." Citigroup's rewards system is called "Citi Thank You," and Citigroup is the owner of www.thankyou.com. Because of its frequent use of the words "thank you," the company has registered the "THANKYOU" trademark.
The trouble is, AT&T launched a promotion for a rewards program connecting its cell service with a Citigroup-backed credit card, called "AT&T Thanks." Citigroup is suing AT&T, claiming that it has domain over that use of "Thanking." Because "thank you" is such a common phrase, Citi only has exclusive rights to its usage in very particular contexts. (Unless the reason they're so wealthy is because they do get a nickel every time someone says thank you!?) Now, AT&T is attempting to trademark "AT&T THANKS." In this lawsuit, Citigroup is claiming that AT&T's marketing campaign is "confusingly similar to Citigroup's 'THANKYOU Marks,'" and Citigroup is attempting to block AT&T's trademark.
Take a look at the two programs yourself: the Citigroup Thank You program has scores of gift-cards, vacations, and gadgets you can buy with points awarded through your citi card. The AT&T "Thanks" promotion includes offers like "buy one get one free" movie ticket 'twosdays,' along with pre-sale access for LiveNation and exclusive TV content.
If AT&T can prove that it's unlikely consumers will be confused between the two programs, then it will be able to keep its own usage of "THANKS." If Citigroup shows that the trademark is being used unfairly, its claim to the words "THANK YOU" is bolstered in other related services. The hearing date has not yet been set in this case, so if you're waiting to hear what happens, I can only THANK YOU for your patience. And there's no word yet on whether Alanis Morissette has been served a cease and desist letter from Citigroup.