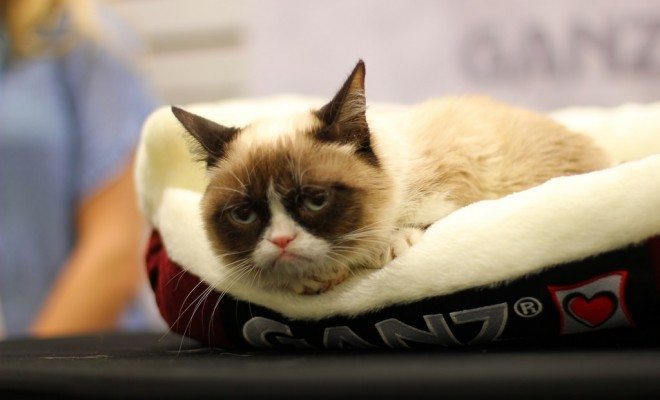 Image courtesy of [Ricky Brigante via Flickr]
IP & Copyright
A Strange Tail: Grumpy Cat Sues Coffee Maker for Copyright Infringement
By
|
Almost everyone recognizes the familiar mug of Grumpy Cat, a.k.a. Tardar Sauce. But what you might not know is that her likeness is actually owned by a company, Grumpy Cat Ltd., a multi-millionaire dollar merchandising brand. Now, Grumpy Cat Ltd. is suing a coffee company, Grenade Beverages, over copyright claims.
The lawsuit was filed in a federal court, the Central District of California. According to its lawsuit, Grumpy Cat Ltd. gave Grenade Beverages permission to use Grumpy Cat's likeness and photo for a particular beverage: the "Grumpy Cat Grumppuccino." However, Grumpy Cat Ltd. is claiming that Grenade overstepped that agreement, and used Grumpy Cat's likeness for other products, including ground coffee beans, despite the fact that Grumpy Cat Ltd. specifically told it not to.
The complaint filed by Grumpy Cat Ltd. goes into Grumpy Cat's meteoric rise to success in a way that is truly entertaining to discover in legal papers. The complaint states:
After a

 picture of Grumpy Cat was posted to the internet in 2012, her name and likeness 

spread like wildfire across the globe garnering worldwide media attention. Gru

mpy

Cat has since appeared in numerous major television shows (including 

Today, Good Morning America, American Idol, and The Bachelorette,) has been featured 

on the front

 page of major periodicals such as

 The Wall Street Journal 

and 

New York Magazine, 

starred in advertisements for Cheerios and McDonalds, starred in her own Lifetime 

Television Christmas movie, "authored" three (3) books that debuted on the 

New York 

Times 

bestsellers list, and even has her own animatronic waxwork at Mada

me

Tussauds in San Francisc

o.
The lawsuit also accuses Grenade Beverages of something called cybersquatting. According to International Business Times that means "running a website domain that takes advantage of a trademark belonging to someone else. Grenade Beverages' website is grumpycat.com. Grumpy Cat Ltd.'s website is grumpycats.com."
Grenade Beverages' partner Paul Sanford told Eater that "there isn't a single factual allegation contained in the entire complaint, not one." It will be interesting to see how this case fares in court, but it seems like Grumpy Cat's company is in it to win it–the complaint even began: the "Defendants' despicable misconduct here has actually given Grumpy Cat and her owners something to be grumpy about."