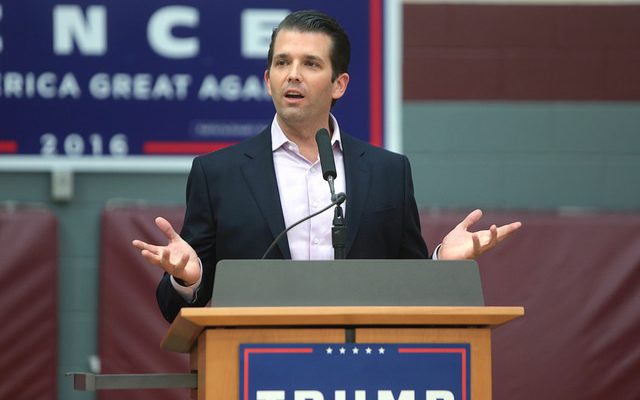 "Donald Trump Jr." Courtesy of Gage Skidmore : License (CC BY-SA 2.0)
Humor
Twitter Roasts Donald "Stump" Jr. With Viral Meme
By
|
The New York Times published a profile on Donald Trump Jr. this week that included an awkward "outdoorsy" photo of the first family member at his father's estate in Bedford, NY. President Trump's eldest son is pictured in the featured photo sitting on a tree stump wearing a flannel shirt, blue jeans, and a pair of hiking boots that are fresh out of the box.
Donald Trump Jr. decided early on not to measure himself against his father https://t.co/HXIxaRxHOV

— The New York Times (@nytimes) March 19, 2017
While Donald Sr. has shown he's comfortable with stump speeches, Don Jr. seems very uncomfortable on his stump. Needless to say, Twitter latched on to the meme-ready image, mercilessly mocking him and his lumberjack attire.
@JordanFreiman noticed that Don Jr.'s sitting troubles go far beyond just stumps.
how is he so bad at sitting? pic.twitter.com/Jg7cTMfDcc

— Jordan Freiman (@JordanFreiman) March 18, 2017