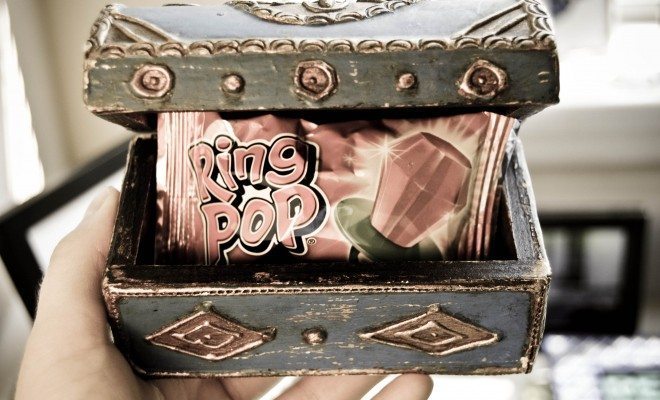 IP & Copyright
The 90s Called: They Want Their Courtroom Back
By |
Various companies with recent intellectual property disputes are taking us back for a nostalgic look at our 90s childhoods. Chances are that at least once in your life you witnessed a jungle gym proposal involving the iconic Ring Pop.
Topps Co., the distributor of the Ring Pop, filed suit on August 21 in New York against the Ohio-based Primary Colors Design Corp. claiming trademark infringement. Topps asserts that three months ago Primary Colors revealed a product too similar to the Ring Pop at the National Confectioners Association's Candy and Snack Show. According to Topps, Primary Colors showcased the Valentine Ring Lollipop — a sugary candy gem mounted on a plastic base in the design of a ring.
Topps requests a court order that would ban Primary Colors from producing and selling the candy item, in addition to financial damages.
It looks like there may only be room for one candy jeweler on the playground. But in case you weren't the romantic type but more of a young businessman, you may have found yourself trading Pokémon cards in the sand box.
Last week, Pokémon Co. International sent a cease and desist notice to Shapeways Inc. demanding it halt sales of its 3-D printed planter, which resembles the Pokémon character Bulbasaur. Although Shapeways did not officially label the planter as a Pokémon character, calling it a "succulent monster" instead, more than one reference to the Pokémon franchise was included in the listing.
After receiving the notice, Shapeways removed the listing from its website, but Pokémon International  is "asking for all the money associated with this model."
So as children, after summers of Ring Pop proposals and Pokémon transactions, when winter rolled around, Disney movies were the go-to form of entertainment.
Last month, Disney found itself in its own winter nightmare when it was unsuccessful in convincing a court in San Francisco to dismiss a copyright infringement lawsuit. Kelly Wilson, a California filmmaker, sued The Walt Disney Co. over a trailer for the popular new Disney movie Frozen. Wilson claimed that in the trailer, the snowman character Olaf too closely resembles a character in his film The Snowman.
A federal judge denied Disney's motion to dismiss this case, writing, "the sequence of events in both works, from start to finish, is too parallel to conclude that no reasonable juror could find the works substantially similar."
Although Disney's Frozen features the famous song "Let it Go" with the lyric, "No right, no wrong, no rules for me I'm free!" the lawsuit is likely to go to trial.
—
Alexandra Badalamenti (@AlexBadalamenti) is a Jersey girl and soon-to-be graduate of Fordham University in Lincoln Center. She plans to enroll in law school next year to study Entertainment Law. On any given day, you'll find her with big blonde hair, high heels, tall Nashville dreams, and holding a newspaper or venti latte.
Featured Image Courtesy of [Elizabeth Albert via Flickr]