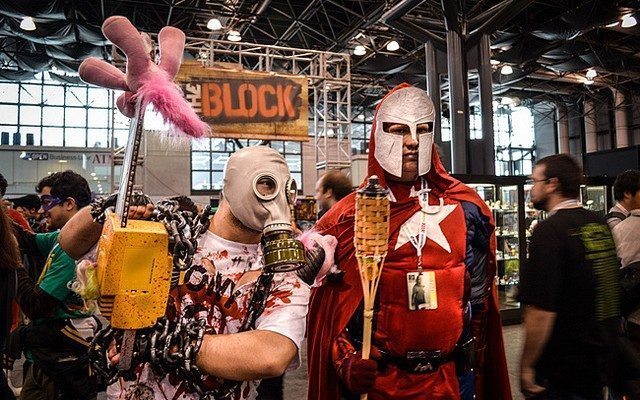 IP & Copyright
NYC Comic Con: Protect It and Publish It
By
|
As thousands flocked to the Jacob K. Javits Convention Center for the 2013 New York City Comic Con, Law Street Media was there to capture all the fandom, releases, and professional panels. But the most important part, of course, were the costumes.
From infamous duos…
To beautiful women dressed to impress the inner-geek in all of us.
Day one of Comic Con featured a professional panel designed to help up-and-coming comic book artists and writers protect and publish their work. So today's blog is a step-by-step tutorial for all of you artists and copyright enthusiasts out there to protect your creations.
Creating and Protecting Your Comic Book Property
Part one of the panel focused on protecting the intellectual property of comic book creators, with particular emphasis on different copyright objectives that comic book creators need to take into consideration when taking on new projects. For example, the difference between an independent work and work-for-hire and various types of authorships.
First and foremost, comic book creators need to take into consideration whether or not their work is of sole authorship or a collaboration. Panelists warned against the dangers of working with your friend and what they called "collaboration sabotage," or one person doing all the work.
Copyright law does not favor the person who does the most work or the person who comes up with the idea; therefore, a written contract ensures that working with your friends doesn't turn them into your enemies. By default, copyright law will see any collaboration as a joint authorship, which means everything is 50/50, unless there is a collaboration agreement. This means equal pay, equal shares, and equal licensing rights since most publishers often want the exclusive rights to works that they purchase.
Collaboration agreements, as the panelists suggested, should be created at the very beginning before work begins on the project. This way you can agree with your collaborator on things like:
Business Formation – Partnership or Limited Liability Company (must be filed with the state).
Intellectual Property Ownership – Who owns the art, the story?
How are expenses paid?
How are the profits split?
Who has licensing rights and are they limited?
What is the work schedule and division of duties?
Can collaborators create derivative works (works based off of the original project)?
If things do not work out with the collaborators, how do you dissolve and continue the project?
How do you decide when a breach of the collaboration occurs and what viable remedies should be sought?
In addition to collaborating on a single project, there may come a time when you and your collaborator need to hire extra help, perhaps in the form of hiring more artists, inkers, or pencillers. Panelist Thomas Crowell suggested knowing specifics of service contracts and the difference between work-for-hire and independent contractors.
When hiring artists, the first consideration is whether you are hiring them as employees or independent contractors. This specific job description is important in order to determine work ownership. Work-for-hire is defined in Section 101 of the Copyright Act (found in Title 17 of the U.S. Code) as work by an employee under the scope of employment. If a work is made for hire, the copyright is owned by the hiring party. A work-for-hire hinges on who has more control over the creation of the work (i.e: hiring practices, type of compensation, work schedule, etc.).
If the artist you are hiring insists on working as an independent contractor, Crowell suggests that you ensure a services contract is signed, securing your ownership in the copyright of the work. A services contract may dictate how the intellectual property ownership is decided, how royalties are paid, the page rates, and a potential kill fee (the price you pay for artwork even if you choose to not use it). The panelists suggested that you have the independent contractor sign this contract before work begins (otherwise you're bound to run into a major headache regarding IP ownership). Finally, it is important to include language in the contract that specifically dictates, despite the artist's independent contractor role, that the work they create for you is a work made for hire.
Here are some of the panelists' rules of thumb when it comes to creating and protecting your comic book property:
1. Register your work.
2. Establish your copyright — it's the foundation of your legal power, so exercise it.
3. Put everything on paper — there's no protection of ideas.
4. If you have collaborators create a collaboration agreement.
5. If you have a trademark, don't just register it with the US Patent and Trademark Office, but actually use it.
And so we have covered the "protect it" part of the panel. Stay tuned for part two of our Comic Con coverage in order to learn how to "publish it."
—
Rob Anthony is a founding member of Law Street Media. He is a New Yorker, born and raised, and a graduate of New York Law School. In the words of Supreme Court Justice William O. Douglas, "We need to be bold and adventurous in our thinking in order to survive." Contact Rob at staff@LawStreetMedia.com.
Featured image courtesy of [DowntownTraveler.com via Flickr]