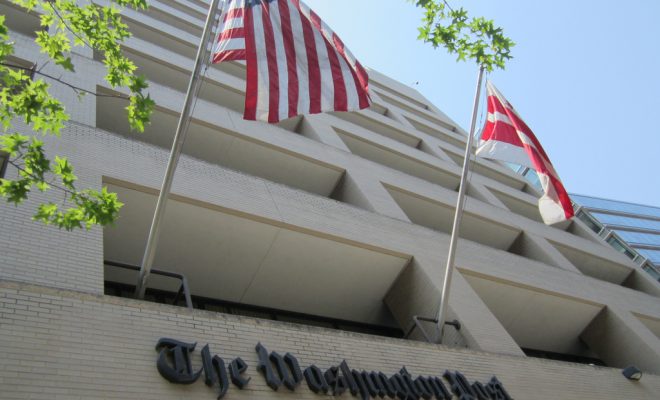 Image courtesy of Daniel X. O'Neil; License:  (CC BY 2.0)
Humor
Should We Be Worried About the Washington Post's New Slogan?
By
|
The Washington Post unveiled a new slogan this week, straight out of the trailer for a summer action blockbuster or a Harry Potter paragraph: "Democracy Dies at Darkness."
Here's the Washington Post's logic about its new slogan, per spokeswoman Kris Coratti:
This is actually something we've said internally for a long time in speaking about our mission. We thought it would be a good, concise value statement that conveys who we are to the many millions of readers who have come to us for the first time over the last year.
As the New York Times pointed out, this isn't the first time that democracy and darkness have been mentioned hand-in-hand by higher ups at the paper. Jeff Bezos said last year:
I think a lot of us believe this, that democracy dies in darkness, that certain institutions have a very important role in making sure that there is light. And I think The Washington Post has a seat, an important seat, to do that because we happen to be located here in the capital city of the United States of America.
Regardless of the logic–and it's important to note that that logic does seem sound, given President Donald Trump's relentless attack on "fake news," and the fact that trust of the media is at a notable low–the slogan is still striking many as a tad…dramatic. And of course, it has received some mocking on Twitter:
i am critical of the washington post but if batman could say your newspaper slogan with a straight face that feels like its ok

— Oliver Willis (@owillis) February 22, 2017
wow, the washington post's new slogan is pretty dark pic.twitter.com/6yxzZ2EC5G

— Tom Phillips (@flashboy) February 22, 2017
The Washington Post's new tagline is pretty good. pic.twitter.com/W922lcvzim

— neontaster (@neontaster) February 22, 2017
The Washington Post has a new slogan. It's very… metal. pic.twitter.com/k2S95AsMSD

— Thomas Seal (@TW_Seal) February 22, 2017
— Matt Nelson (@Maddoxnelson) February 22, 2017
But regardless of the mocking, the new slogan got readers' attention, and reaffirmed the Washington Post's very laudable commitment to standing up to the Trump Administration. Still…we have to ask: you guys ok?