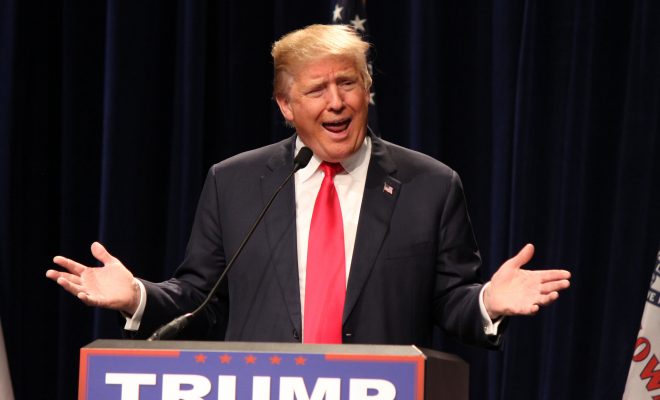 "Donald Trump in Ottumwa, Iowa" Courtesy of Evan Guest: License (CC BY 2.0)
Humor
A Swedish Newspaper Shows Trump What "Really" Happened in Sweden
By
|
If you followed any of the coverage of President Donald Trump's rally on Saturday in Florida, you may have seen this odd incident:
This is the man Trump brought on stage pic.twitter.com/cHtvop8EYX

— Andrew Hibbard (@andrewhibbard) February 19, 2017
But you may have also seen a ton of confused journalists wondering "what in the world happened in Sweden on Friday night?" Per the Palm Beach Post, Trump said:
Here's the bottom line. We've got to keep our country safe. You look at what's happening. We've got to keep our country safe. You look at what's happening in Germany, you look at what's happening last night in Sweden. Sweden, who would believe this. Sweden. They took in large numbers. They're having problems like they never thought possible. You look at what's happening in Brussels. You look at what's happening all over the world. Take a look at Nice. Take a look at Paris. We've allowed thousands and thousands of people into our country and there was no way to vet those people. There was no documentation. There was no nothing. So we're going to keep our country safe.
Well, it turns out that nothing really happened in Sweden. But, thanks to Aftonbladet, a tabloid-like Swedish newspaper, we can read about what really went down on Friday night in Sweden. Publishing a slyly snarky response to President Trump's remarks, Aftonbladet released a short breakdown of the worst events that took place on Friday night in Sweden–and none of them are any sort of terrorist attack worthy of being compared to the Bastille Day attacks in Nice or 2015 mass shooting in Paris.
Some of the stories are tragic: "8:23 p.m.: A man died in hospital, after an accident in the workplace earlier that day in the city of Borås." Aftonbladet also captured the mundanity of that Friday night: "6:42 p.m.: The famous singer Owe Thörnqvist had some technical problems during rehearsal for the singing competition 'Melodifestivalen.' (However, the 87-year-old singer still managed to secure the victory the very next day.)"
You can check out the full Aftonbladet article here.
So what was Trump even thinking? We now know that Trump's comments on Sweden were informed by a Fox News segment he watched.
My statement as to what's happening in Sweden was in reference to a story that was broadcast on @FoxNews concerning immigrants & Sweden.

— Donald J. Trump (@realDonaldTrump) February 19, 2017
We also know that a White House spokeswoman told officials that Trump wasn't referring to a specific incident, but just rising crime in Sweden in general. Reuters points out that this is not an entirely true statement, as the country's crime rate has fallen since 2005.
We also know that facts don't seem to matter anymore.
Sweden? Terror attack? What has he been smoking? Questions abound. https://t.co/XWgw8Fz7tj

— Carl Bildt (@carlbildt) February 19, 2017