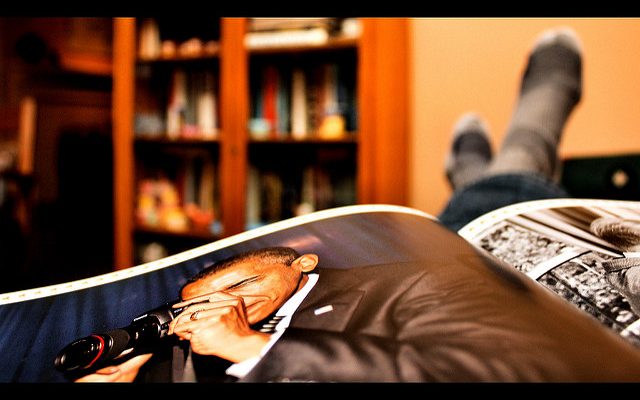 "President's Photographer" Courtesy of Phil Roeder: License (CC BY 2.0)
Humor
A Profile in Shade: A Ranking of Pete Souza's Instagram Posts
By
|
With tensions rising in America, shade levels have been rising in direct proportion. A tiny bit of this shade and subtly savagery is coming from former official Obama White House photographer Pete Souza's Instagram account.
Souza, who was also the official White House photographer for the Reagan White House, has been taking to his new Instagram account (the account he used during the Obama administration is now archived) to post photos from his time with the Obama White House, while also throwing some shade at President Donald Trump.
Many people and outlets have pointed out Souza's shade, from people on Twitter to CNN and Teen Vogue.
Omg you need to follow @PeteSouza on Instagram. The subtle trump shade…these captions are SAVAGE. #ObamaLegacy #whitehouse44 pic.twitter.com/xxLOEQv8qH

— Vallari Ajgaonkar (@VallAjgaonkar) February 2, 2017
Ain't no shade like Pete Souza shade cus Pete Souza shade has amazing composition and lighting. https://t.co/QuBl7er9AT

— The Happy Feminist (@HappyFeminist) February 2, 2017
I am living for @PeteSouza's instagram trolling

— Megan Hess (@mhess4) February 3, 2017
Let's take a little dive into this man's glorious new Instagram feed, and rank his pointed posts by shade and savagery.
#5: Immigration Ban Posts
Many people criticized President Trump's immigration ban last weekend that incited protests in different airports across the country. This criticism has been direct and heated. But Souza is far too shady to directly address the situation. Instead, Souza just posted two pictures relating to the refugee situation to respond. The first: a picture of Obama with a young refugee. The second: a picture of a six-year-old boy, Alex, who was so concerned about the well-being of a Syrian refugee that he wanted him to be his brother.
Why do these posts take last place on the list? Well, that's because, while they're perfectly shady, they're a little too heart-tugging and emotional to be petty enough to be characterized as "savage." Hundreds of stories have been written about the immigration ban and its effects on not only refugees but on American citizens, and these posts from Souza point to the perceived human costs associated with Trump's executive order. These posts are a perfect introduction to the shade that Souza is throwing on Instagram, but they aren't totally indicative of how subtly biting Souza's posts can get.
#4: Australia 
Now we're getting into slightly more savage territory.
This Souza post shows Obama sharing a hearty and chummy laugh with the Prime Minister Malcolm Turnbull of Australia at the ASEAN gala dinner last September.
Did Souza post this just because he thought the lighting was particularly good in this shot? Absolutely not. This was posted in the midst of the new Trump-Australia feud and after The Washington Post reported that the phone call between Trump and Turnbull was somewhat contentious.
. . . President Trump blasted Australian Prime Minister Malcolm Turnbull over a refu­gee agreement and boasted about the magnitude of his electoral college win, according to senior U.S. officials briefed on the Saturday exchange. Then, 25 minutes into what was expected to be an hour-long call, Trump abruptly ended it.

At one point, Trump informed Turnbull that he had spoken with four other world leaders that day — including Russian President Vladi­mir Putin — and that "this was the worst call by far."
The beauty of this post lies in how subliminal it is. This is a technique that we will see Souza employ for numbers 3 and 2 of our ranking.
#3/#2 (Tie): Mexico and Merrick Garland
We have a tie. We have this tie because these two posts are uniquely shady in their own ways, thus making it impossible to choose which one is superior to the other.
Let's begin with the Merrick Garland post.
For context, Merrick Garland is, of course, the Obama Supreme Court nominee who never received a Senate confirmation hearing. Many people have cried foul over this because Garland was respected by politicians on both sides of the aisle. And last week Trump nominated Neil Gorsuch for the Supreme Court.
What makes this post so great is the fact that Souza posted this picture of Obama and Vice President Joe Biden with Garland a couple of hours before Trump announced his pick for SCOTUS nominee. The other thing that makes this post great is the simplicity of the caption, especially the second part. "Just saying."
Just saying. 
This caption is also 100 times better if you read Just saying the same way André 3000 says "Just playin'" after he describes his very specific (read: petty) hope that a pretty but stuck up young woman (Caroline) will speed in her car on the way to the club trying to hurry up to "get some" baller or singer (or somebody like that) and while driving try to put on her makeup in the mirror but because of her inability to multitask she will crash, crash, crash into a ditch.
We then move on to the picture that Souza posted of Obama drinking tequila with Mexico's president Enrique Peña Nieto.
This one is pretty self-explanatory. It's no secret that Trump has a dicey relationship with Nieto (see: border wall). Things seemed to have reached a kind of boiling point the other day when The Washington Post reported that Trump had a heated phone call with Nieto, who canceled a planned meeting with Trump. Then, The Associated Press reported that Trump told Nieto that "he was ready to send U.S. troops to stop "bad hombres down there" unless the Mexican military does more to control them."
The whole situation with the relationship between Trump and Nieto would make this post go pretty high on the list, but what truly makes it so perfectly shady is what is maybe an unintended feature of the picture. If you will notice, Obama bears a striking resemblance to an insanely popular meme/gif. Click this link to see if you can make the rainbow connection.
#1: Then It Was on Day One…
Congratulations, you've made it to the end.
The absolute shadiest/pettiest/subtly savage post Souza has made came on the very first day of Trump's presidency when Souza took a moment to comment on some of the aesthetic changes to the Oval Office.
The drapes that hang behind the Resolute desk are now gold, which isn't much of a surprise because, if you didn't know, our president is Donald Trump.
Captured this last night as @POTUS @realDonaldTrump sits at his desk in the Oval Office for the first time in the @WhiteHouse. #POTUS45 pic.twitter.com/BObUKXwIir

— Dan Scavino Jr. (@DanScavino) January 21, 2017
Why does this post take the number one spot? Because the whole thing is about drapes. That's it–drapes. How petty do you have to be to go after a man's choice of drapes? And imagine how shady you have to be to go after the drapes of the man who replaced your former boss.
Also, this was posted on Day 1 of Trump's presidency. Day. 1.  This is a day after anarchists took to the streets to set a limo ablaze and bust the window of a Starbucks and the same day millions of women around the globe marched in protest of the new president and his problematic views and behavior, and this man was ruthless enough to take to his Instagram account to go in on the new president's new drapes. Souza is audacious. This is like if "I don't know her" were an Instagram post. This is why this post is and will always be the most petty/shady/savage post Souza will ever make on Instagram.
There are no signs that Souza will stop posting his shadiness on Instagram any time soon. Not only does he post pictures with captions that comment on our current political situation, but he also posts a ton of pictures that are objectively beautiful that were taken throughout his career as a photographer.
It's just too bad that Souza is no longer around the Obamas to take a better-framed and less-grainy photo of this iconic moment in the life of the former president of these United States:
Obama's on vacation with the hat backwards. He's never coming back. pic.twitter.com/RUakcwwgtT

— Philip Lewis (@Phil_Lewis_) February 1, 2017
You can follow Pete Souza on Instagram @petesouza.