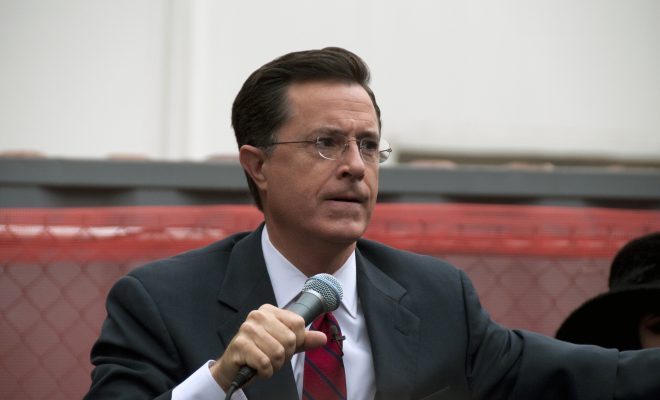 Image courtesy of MHimmelrich: License: CC by-ND 2.0
Humor
Here's How Late Night Hosts Reacted to the Election Results
By
|
On Wednesday morning, writers' rooms were probably frantically trying to re-write many of their planned monologues and sketches in line with election night's unexpected results. Many of them probably struggled with what tone to approach the news with, as the man who had been their main source of comedic material for the past 18 months is not a joke anymore–he's now our president-elect. While these hosts were more somber than usual, they still brought the laughs, and demonstrated that not all hope was lost.
If the election results have you stressed, hopefully these late night hosts can offer you the comedic comfort food your soul needs.
"Last Week Tonight" with John Oliver
John Oliver's last show of the year issued some pretty serious messages and dire warnings in between its laughs. John Oliver urged viewers to "actively stand up for one another" by supporting organizations such as The Trevor Project, Planned Parenthood, the International Refugee Assistance Project, and a myriad of others. He also advised that we constantly remind ourselves that "this is not normal" with regard to a Trump presidency. Oh, and he also "blew up" 2016 at the end, because this year has been all-around awful.
"The Daily Show" with Trevor Noah
This election cycle was seriously missing the voice of Jon Stewart, but Trevor Noah delivered on Wednesday with material that could make a viewer want to laugh and cry at the same time. Particularly moving was a bit by Hasan Minhaj, in which he almost broke down in tears while telling the story of his mother, who is currently abroad and can't return to the U.S. until February, but wasn't entirely sure whether she'd be let back in under Trump's confusing and ever-changing "Muslim ban." He needs her…and she also owes him $300.
Another moving moment from this week's show was when correspondent Michelle Wolf also simultaneously laughed and cried as she discussed the absurdity of Trump's win and its depressing implications for American women.
In the 2016 election, 42% of women voted for Donald Trump. @MichelleIsAWolf responds: https://t.co/lU43mqpyPz pic.twitter.com/BJZCxetT5s

— The Daily Show (@TheDailyShow) November 10, 2016
"Late Night" with Seth Meyers
Seth Meyers just might be the man to blame for a Trump presidency: in 2011, he delivered scathing jabs at Trump for his "birther" comments about President Obama. He also laughed off Trump's interest in a campaign for the presidency at the time, while cameras showed Trump was in the audience silently seething and accepting the challenge.
Despite that, Meyers received praise for his election coverage, with his "Closer Look" segments. His post election remarks were somber, hopeful, and humorous at the same time, and had Meyers himself on the verge of tears.
"Full Frontal with Samantha Bee"
The central message of Bee's show? We need to get to work. Bee was definitely angry with the results, blaming the large white voter base that voted for Trump. Bee also shushed white people who didn't vote for him, and said "if Muslims have to take responsibility for every member of their community, so do we."
But Bee wasn't just angry, she was also hopeful for the "nasty women" of the future that need to step up so that we can have more and more women representing us in office.
"The Late Show" with Stephen Colbert
Another character who was sorely missed this election cycle was Stephen Colbert's "Colbert Report" persona. But even though we didn't get to hear from his alter ego, the man himself was there to support us through the tough Election Night and into the next day.
Stephen Colbert's live election night coverage on Showtime ended before Trump's victory was announced, but at that point it was already clear that a Clinton win was unlikely, so the night ended on a somber and uncertain note. But the next morning, after it was official, Colbert captured the nausea-ridden hangover that overcame much of the country the day after the election. Colbert was blunt about his feelings ("This suuuucks"), but if you're feeling down, I guarantee that watching Colbert put on cat ears and pretend to be a "sexy kitty" will definitely improve your day.