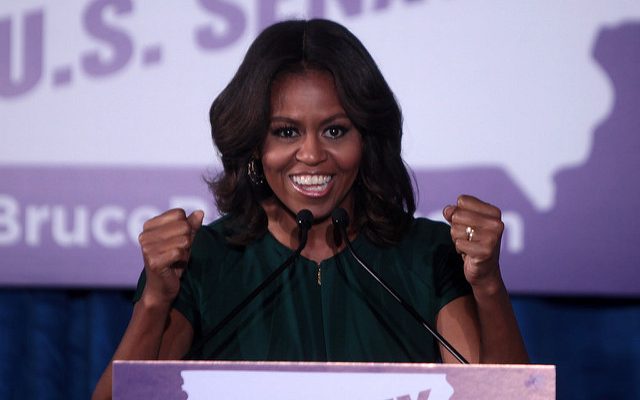 "Michelle Obama" Courtesy of [Gage Skidmore via Flickr]
Humor
Funny Political Clips of the Week: FLOTUS Singing, SNL x RBG, & Colbert
By
|
We're nearing the end of the Republican National Convention, and the seriousness of Donald Trump potentially taking over the Oval has us all in desperate need of a bit of humor this week. From Michelle Obama singing Carpool Karaoke with Missy Elliott, to Stephen Colbert crashing the RNC, here are some of the best funny political clips of the week:
Michelle Obama Gets Her "Freak On" During Carpool Karaoke
James Corden, host of the hilarious "Late Late Show," stopped by the White House for his latest edition of Carpool Karaoke, and wound up with First Lady Michelle Obama in his passenger seat. How he got past the Secret Service, I'm not sure, but the private tour was legendary.
Corden and FLOTUS drove around the grounds and rocked out to songs like "Signed, Sealed, Delivered (I'm Yours)" by Stevie Wonder (Michelle's favorite artist) and  "Single Ladies" by Beyoncé. Missy Elliott also made a surprise appearance, joining the pair for a rendition of Michelle's charity anthem "This is For My Girls" and "Get Ur Freak On"–I think it's fair to say Michelle Obama is the coolest First Lady ever.
Kate McKinnon Dresses Up as Notorious RBG to Mock Trump
"Ghostbusters" star Kate McKinnon dressed up as Ruth Bader Ginsburg at the Republican National Convention to respond to Trump telling Twitter, "Her mind is shot–resign!"
A robed McKinnon said,
If my mind is shot then Donald Trump's mind is shot, stabbed, strangled, put in a vat of wet cement and dumped in the Gowanus Canal. His mind is sleeping with the fishes, but it's waking up to a Ginsburn.
Trump's tweet came after the real Notorious RBG recently made headlines for calling Donald Trump "a faker" in a recent interview. The 83-year-old Supreme Court Justice said, "I can't imagine what this place would be–I can't imagine what the country would be–with Donald Trump as our president."
Stephen Colbert is Hungry For Power Games at RNC
On Sunday, Stephen Colbert crashed the Republican National Convention for another edition of  the "Hungry for Power Games" that was later streamed Live on Monday night's "Late Show." A blue-wigged Colbert showed up to the RNC as Julius–his best impersonation of "The Hunger Games" host Caesar Flickerman–and toured Cleveland's Quicken Loans Arena with his fake pet weasel, Caligula, in hand.
Colbert's mocked New Jersey Governor Chris Christie, North Carolina's bathroom laws, and Trump's immigrations plans before later seizing the stage to make fun of Donald Trump's running mate Mike Pence–which ended with him being escorted off stage.
https://www.youtube.com/watch?v=WFjDBvRxcbM