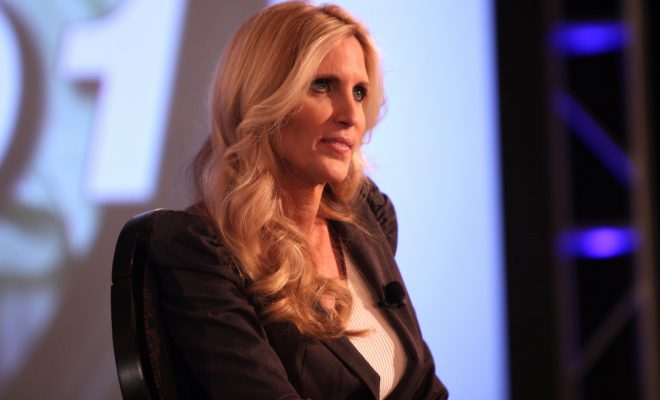 Image Courtesy of [Gage Skidmore via Flickr]
Humor
The Top 10 Ann Coulter Insults from the Comedy Central Roast of Rob Lowe
By
|
What was supposed to be a night of roasting Rob Lowe turned into a brutal attack on Ann Coulter, the infamous conservative pundit known for her inflammatory comments.
On Monday night, Comedy Central aired its long-awaited roast centered on Lowe, famous for his sex tape, DirecTV commercials, failed pilots, and occasional notable acting along the way. While many of the jokes jabbed at Lowe's involvement with a 16-year-old and his acting career, the attention shifted and the rest of the roasters took their swings at Coulter.
Coulter showed up to do a promotional spiel on her new book, 'In Trump We Trust.' When it finally came time for her to talk about it, she was met with boos from the audience.
Coulter sat seemingly lifeless as each insult came, like a frog in a pot of boiling water unaware that it's being slowly burned alive.
Here are 10 of the best insults sent her way:
"Why is Ann Coulter here tonight? Because the right-to-lifers wanted everyone to see what an abortion looks like up close."
2. Pete Davidson
"Ann Coulter, if you're here, who is scaring the crows away from our crops?"
It's not going to be a good night for Ann Coulter #LoweRoast pic.twitter.com/LRuTG4w6Gi

— Nate (@BarstoolNate) September 6, 2016
"Ann Coulter has written 11 books — 12 if you count 'Mein Kampf'"
"I just realized I'm not the only athlete up here. As you all know, earlier this year Ann Coulter won the Kentucky Derby."
"As a feminist, I can't support everything that's being said up here tonight. But as someone who hates Ann Coulter, I'm delighted."
"The only person you will ever make happy is the Mexican who digs your grave."
"Ann seems stiff and conservative, but she gets wild in the sheets — just ask the Klan."
8. Jewel
"Jeff Ross is going to party like its 1999, Ann Coulter is going to vote like its 1899."
"Ann Coulter is one of the most repugnant, hateful bitches alive — but it's not too late to change, Ann. You could kill yourself."
"Is Pete white? Is he black? Ann Coulter needs to know so she can decide if she hates him"
Then it was Coulter's time to speak, and she continued to plummet.
Audience reaction to Ann Coulter on the Rob Lowe roast are about perfect pic.twitter.com/SkI00cyLgZ

— CJ Fogler (@cjzero) September 6, 2016

After that really rough night for Coulter, this post feels more like a eulogy.