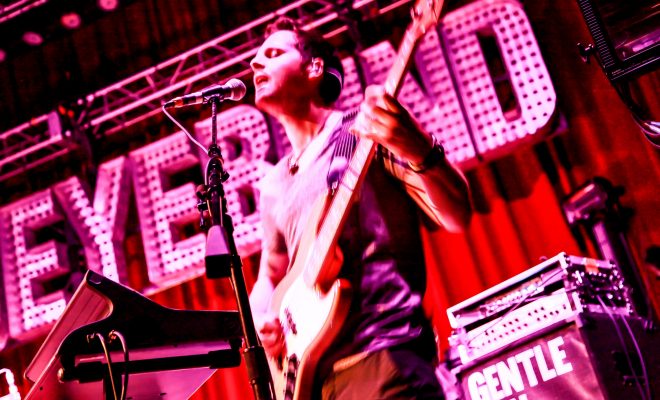 Image courtesy of [Julie via Flickr]
Entertainment
Third Eye Blind Expertly Trolls RNC Attendees
By
|
Third Eye Blind, mostly known for '90s hits like "Semi-Charmed Life," played a charity show last night at the Rock and Roll Hall of Fame in Cleveland, Ohio. It was hosted by the Recording Industry Association of America and AT&T, and mostly included RNC attendees and guests. But the members of Third Eye Blind may have been the only ones having fun at the concert–the band spent most of their performance trolling the RNC attendees in the audience.
The band released this statement, outlining how exactly they came to play the event in the first place:
About last night: https://t.co/LIOhIIzGqg pic.twitter.com/nqPKeSYepj

— Third Eye Blind (@ThirdEyeBlind) July 20, 2016

Stephen Jenkins, the band's singer, kept asking the crowd to "raise your hands if you believe in science"–a clear shot at the GOP's continued refusal to address climate change. Apparently many of the audience members booed the "science" question. The band also refused to play their hits, instead playing their more obscure songs.
The one big hit they did play was "Jumper," which was written about one of Jenkins' friends who was gay and committed suicide. Jenkins introduced the song by talking about acceptance and tolerance, and mentioning his gay cousins.
.@ThirdEyeBlind Epically Trolled People At The Republican Convention #RNCinCLEhttps://t.co/0UxH3vsLIwpic.twitter.com/x9KheBC25x

— BuzzFeed News (@BuzzFeedNews) July 20, 2016
Onlookers also tweeted about other funny and tongue-in-cheek moves on the band's part: 
apparently @ThirdEyeBlind also played their song "Non-Dairy Creamer," which has these tongue-in-cheek lyrics pic.twitter.com/PBk3VYnMOV

— Rachel Zarrell ✨ (@rachelzarrell) July 20, 2016
The band had previously refused to play at the 2012 Republican convention after being asked, and Jenkins explained their logic in an article on the Huffington Post, saying: 
They are in fact, a party dedicated to exclusion. No where is this more clear than their stop-people-who-don't-vote-for-Republicans-from-voting-at-all-Voter ID law. They now seek to subvert the democratic process itself because they no longer think they can win by adhering to basic tenets of our democracy like the Voting Rights Act. I call that craven. For that reason alone, if I came to their convention, I would Occupy their convention.
So while Third Eye Blind did end up playing at an RNC-adjacent event this year, it seems like they got the last word in.