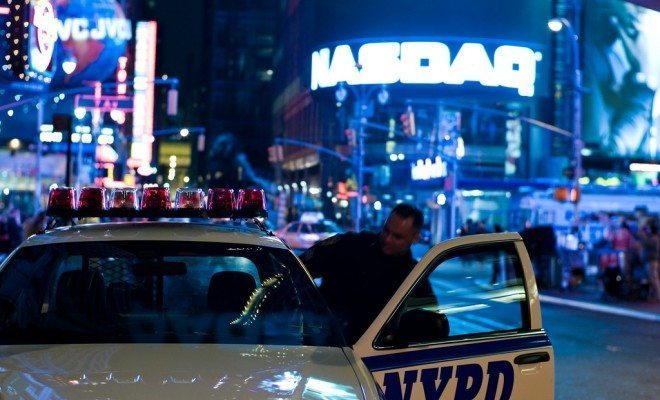 "NYPD @ Times Square" courtesy of [Joi Ito via Flickr]
Entertainment
OITNB's Taryn Manning is Suing New York for 2014 Arrest
By
|
If you've watched the Netflix hit "Orange is the New Black" you've seen Taryn Manning in the ensemble cast as Tiffany "Pennsatucky" Doggett. The 37-year-old actress has also had roles in "Crossroads" (opposite Brittany Spears), "8 Mile" and  "Sons of Anarchy." But she's also had a less-than-charmed life as well–she has been arrested multiple times on various charges. However, Manning is now fighting back against one of the arrests, suing the city of New York for $10 million and claiming that she was wrongfully arrested.
#OITNB star Taryn Manning sues NYC for $10 million for "false arrest" https://t.co/0tPAzHmhY6 pic.twitter.com/l27ZPA1qzO

— Huffington Post (@HuffingtonPost) February 9, 2016
Manning was arrested in New York City in November 2014 and accused of making threats against a former friend and roommate, named Jeanine Heller. The case is incredibly confusing, but here's what we know: Manning and Heller had had a turbulent friendship for a while, and Heller has even claimed that they had a romantic relationship at one point. Their feud, although it's unclear what caused the showdown, eventually led to both women filing restraining orders against each other. Manning had accused Heller of stalking her in the past, and Heller has served prison time after admitting to her contact with Manning.
However, on November 18, 2014 Manning was arrested after Heller accused her of violating the restraining order and threatening Heller. Manning is now claiming that the police did so even after the District Attorney had already decided not to prosecute Manning, and had told her lawyers that fact. Stacey Richman, a lawyer who represented Manning at the time stated:
I had multiple conversations with the DA's office as well as the Fifth Precinct Detective Squad before appearing at that Nov. 18 meeting. I am certain that the assigned Detective knew in advance … that Ms. Manning would not be prosecuted. Hence, she should NEVER have been arrested.
However, Manning was arrested, handcuffed, marched through the precinct, and put in a holding cell. Eventually she was released after the District Attorney's office issued a formal declaration that Manning was not to be prosecuted. But by that point, the damage was done–news of Manning's arrest had already been leaked to the press. At that point, her lawyer released the following:
The District Attorney declined to prosecute Ms. Manning and the arrest was voided. The allegation was false. It is unfortunate that additional false allegations by an individual convicted of violating orders of protection intended to protect Ms. Manning are facilitated by purported news organizations to perpetuate the harassment of Ms. Manning exponentially.
Now, Manning is suing the city of New York for $10 million, saying that she was falsely arrested and that her civil rights were violated in the process. Now, Manning has also run into some other problems with the law lately–most notably she was involved in a violent altercation with friend and makeup artist Holly Hartman; she was arrested in 2012 after assaulting Hartman as well. But regardless of her violent past, Manning's claim that her rights were violated in the 2014 arrest could hold water, particularly if her narrative is proven true.