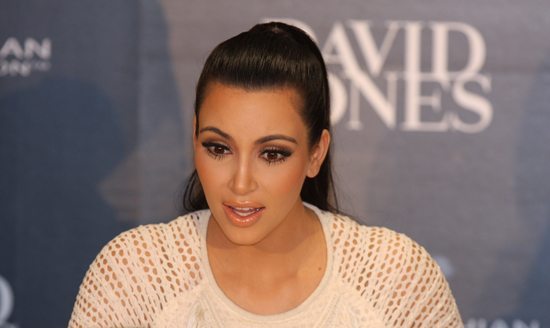 Image Courtesy of [Eva Rinaldi via Flickr]
Entertainment
Kim Kardashian's Selfie Comes With an FDA Warning
By
|
Even though the world very well may be reaching its breaking point with how much Kardashian news coverage it can take, recent legal trouble between the family's top breadwinner Kim Kardashian West and the Food and Drug Administration has warranted keeping the reality stars in the spotlight.
Last week Kardashian West posted a selfie on Instagram of herself holding a prescription bottle of Diclegis, made by the pharmaceutical company Duchesnay USA. The pregnant celeb credited the drug with helping her manage her bouts of morning sickness with baby number two.
FDA tells @KimKardashian she's doing it wrong http://t.co/DVHXBLes08 pic.twitter.com/wQWZKkOLlW

— Halle Tecco (@halletecco) August 12, 2015
The post, which has since been deleted, read:
I tried changing things about my lifestyle, like my diet, but nothing helped, so I talked to my doctor. He prescribed me #Diclegis, and I felt a lot better and most importantly, it's been studied and there was no increased risk to the baby.
Kim is no stranger to social media product promotions; she's utilized her personal accounts to sell everything from teeth whiteners to tennis shoes to her 42 million followers on Instagram and 25 million on Facebook. But, the so-called "selfie queen" failed to cover her bases with her latest venture.
Although the post linked to the drug's website and its safety information, FDA Division Director for the Office of Prescription Drug Promotion Robert Dean says it wasn't enough. In his warning letter dated August 7, Dean writes, "the social media post is false or misleading in that it presents efficacy claims for DICLEGIS, but fails to communicate any risk information associated with its use and it omits material facts." He also points out that the post neglected to mention that the drug has not been studied in women with hyperemesis gravidarum, a complication of pregnancy characterized by uncontrollable nausea, vomiting, and dehydration.
The confusion over the side effect omission boils down to the drug's classification. Diclegis, is labeled under the pregnancy category A, which means it has failed to demonstrate a risk to the fetus in the first trimester of pregnancy. Despite this, disclosing risks of the drug during pregnancy are still required in labeling and promotions.
Forbes explains further writing,
Incidentally, such pregnancy classifications were eliminated by FDA last month and companies are now required to give prescribers more precise safety details on a drug's fetal and maternal risk profile because the old classification was "often misinterpreted and misused in that prescribing decisions were being made based on the pregnancy category, rather than an understanding of the underlying information that informed the assignment of the pregnancy category.
According to the drug's website, Diclegis' most common side effect is drowsiness and therefore should not be combined with alcohol, certain depressants and pain medications, and sleeping aides. Women are also encouraged not to drive, use heavy machinery, or "engage in other activities that need your full attention" while taking the drug.
In response to the letter, Duchesnay spokeswoman Laney Landsman said the company is working very hard to take quick action and is working out a plan to submit to the FDA. The letter warned that "failure to correct the violations discussed may result in FDA regulatory action, including seizure or injunction, without further notice." It's unclear if Kim will have to forfeit her compensation for the ad since it has been deleted, but it's safe to say the reality star will likely be "keeping up with" the FDA's requirements.