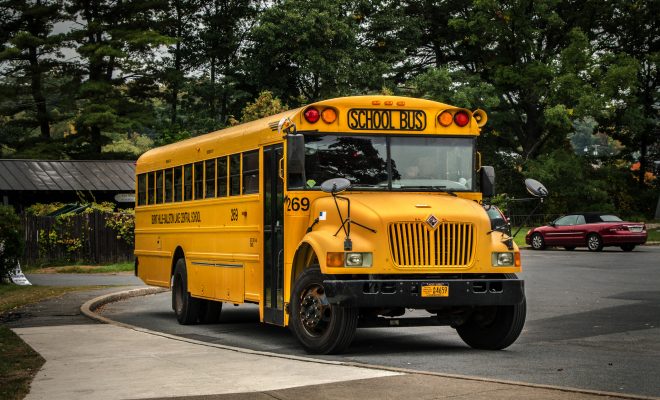 "School Bus" courtsey of [Johannes Thiel via Flickr]
Entertainment
John Oliver on Why Charter Schools Are Not Like Pizzerias
By
|
It's back to school season, so in the latest episode of "Last Week Tonight," host John Oliver set his sights on the political phenomenon that is charter schools.
These publicly funded schools are privately run and receive money based on how many students they have enrolled. They've become increasingly popular among politicians (from both political parties), and many are run by celebrities–even Pitbull has one! Yet, despite their popularity, there have been countless examples of charter schools being run in horribly unprofessional ways.
Principals have been found guilty of embezzlement, and in the case of Philadelphia's Harambee Institute (yes, just like the name of the slain gorilla, but spelled differently), the school's cafeteria was turned into an illegal, unlicensed nightclub after school hours.
Oliver quipped, "A nightclub in an elementary school is a recipe for disaster, because those are the two most vomit-prone populations in the world. They must have had to Febreeze the sh*t out of that place!"
Fact is, in Philadelphia alone, at least ten executives or top administrators at charter schools have pleaded guilty in the last decade to charges like fraud, obstruction of justice and misusing funds. In reference to Pennsylvania's charter laws Oliver says,
It is not like having the worst 'something' is new for Pennsylvania. Remember, this is the state that has the worst football fans, the worst bell, and the worst regional delicacy. Yes. If I wanted Cheez Whiz on my steak sandwich, I'd eat at Kiddie Cafeteria, the restaurant run by six-year-olds.
But Ohio doesn't have a great track record either when it comes to charter schools. Oliver critiqued Gov. John Kasich 2009 comparing the need for choice in schooling options to the need for a competitive market for "pizza shops," saying "That doesn't work on any level."
Oliver concluded,
The problem with letting the free market decide when it comes to kids is that kids change faster than the market," Oliver said. "And, by the time it's obvious a school is failing, futures may have been ruined. So, if we are going to treat charter schools like pizza shops, we should monitor them at least as well as we do pizzerias. It's like the old saying: 'Give a kid a sh—y pizza, you f— up their day. Treat a kid like a sh—y pizza, you could f— up their entire life.'
Watch the full clip below