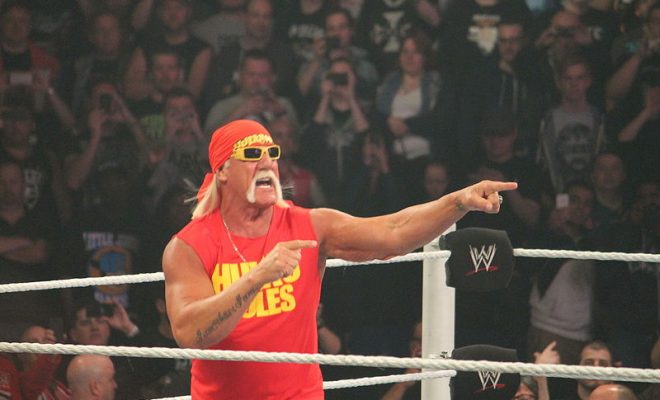 Image Courtesy of Megan Elice Meadows: License (CC BY-SA 2.0)
Entertainment
Hulk Hogan v. Gawker: Coming Soon to a Computer Screen Near You
By
|
A documentary about the lawsuit that pitted celebrity wrestler Hulk Hogan–whose actual name is Terry Bollea–against news and gossip site Gawker is coming to Netflix.
"Nobody Speak: Hulk Hogan, Gawker, and Trials of a Free Press," which premiered at the 2017 Sundance Film Festival, explores the case that awarded Bollea over $140 million in damages, drove Gawker's founder Nick Denton to file for bankruptcy, and resulted in the site shutting down.
Bollea first filed a defamation suit against Gawker in Florida state court in 2012, after an editor at the site posted a segment of a sex tape Bollea had made with his best friend's then-wife. Although Bollea had already spoken publicly about the tape and stills from it had been published elsewhere, he testified that Gawker violated his privacy by releasing the video footage. In his testimony, he tried to distinguish between his roles as a private figure and as a public persona.
In March, a jury granted Bollea $115 million in compensatory damages and $25 million in punitive damages. Gawker filed a motion for a new trial, which was denied in May. Gawker Media subsequently filed for Chapter 11 bankruptcy in June, closed Gawker.com in August, and sold its six sister sites to Univision.
It was revealed in May that Silicon Valley billionaire Peter Thiel, the cofounder of Paypal, had secretly been helping Bollea fund his lawsuit. Thiel had previously condemned Gawker; the site outed him as gay in 2007.
Meanwhile, the case sparked a handful of journalists to speak out against allowing wealthy or powerful individuals to intimidate or cause the decline of publications–particularly when President Donald Trump has said he wants to change libel laws to make suing news organizations easier.
According to Business Insider, the film highlights the threat that billionaires like Thiel pose to the freedom of the press. Director Brian Knappenberger told the news site: "This notion of [Thiel's] nine-year grudge and this epic tale of revenge was so spectacular."
Denton and A.J. Daulerio, the former Gawker editor who posted the sex tape clip, as well as Bollea's lawyer will appear in the film, although Bollea declined to appear.
Bollea v. Gawker, which consistently made headlines since the case began, is sure to make for a fascinating movie.