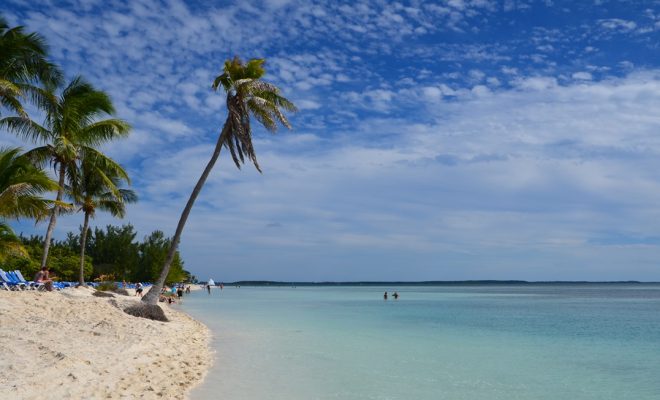 "Bahamas" Courtesy of A. Duarte : Licence (CC BY-SA 2.0)
Entertainment
Fyre Festival Organizer Arrested, Charged With Wire Fraud
By
|
The main organizer of Fyre Festival has been arrested and charged with wire fraud, according to court documents that were unsealed Friday.
Billy McFarland, 25, is accused of defrauding investors in his company, Fyre Media, and Fyre Festival. The now-infamous music festival was promoted on social media by models and celebrities, who touted it as a luxurious paradise in the Bahamas for those who could afford the $1,500 (minimum) ticket price. But when Fyre Festival attendees arrived on the island, they described it as a "post-apocalyptic nightmare."
McFarland could face up to 20 years in prison if found guilty, according to a release from the U.S. Attorney's office for the Southern District of New York. McFarland was released on $300,000 bail Saturday, after a hearing that focused largely on McFarland's wealth and lavish lifestyle.
According to the criminal complaint, McFarland, as founder and CEO of Fyre Media and its subsidiary, Fyre Festival, misrepresented his company's earnings and his personal wealth, and "perpetrated a scheme to defraud individuals by inducing at least two investors to invest approximately $1.2 million."
"McFarland promoted the Fyre Festival in part by claiming that it would bring a global audience together to share a life changing experience," the complaint reads. "Ultimately, the Fyre Festival was widely deemed to have been a failure."
The complaint was sworn to by Brandon Racz, a special agent with the F.B.I. who is assigned to the White Collar Fraud squad in the agency's New York Division. At least two individuals were identified in the complaint as having invested $1.2 million in Fyre Media and Fyre Festival. However, investigators believe there could be more than 80 investors involved, according to the New York Times.
Fyre Media began as an website through which users could book artists and celebrities for events. McFarland allegedly distributed documents to potential investors, claiming that the company had pulled in millions of dollars in revenue from these bookings. However, the company had really earned less than $60,000.
McFarland also misrepresented his personal wealth, according to the complaint. In one example, McFarland provided at least one investor with documents that purported to show that he owned more than $2.5 million in stock in a particular company. In reality, he only owned less than  $1,500, and had altered a Scottrade account statement to make it appear that he owned more.
In the press release, Joon Kim, the acting U.S. Attorney for the Southern District of New York, called Fyre Festival a "disaster."
"As alleged, William McFarland promised a 'life changing' music festival but in actuality delivered a disaster," Kim said. "McFarland allegedly presented fake documents to induce investors to put over a million dollars into his company and the fiasco called the Fyre Festival. Thanks to the investigative efforts of the FBI, McFarland will now have to answer for his crimes."
McFarland's co-organizer, rapper Ja Rule, has not been arrested. The pair face more than a dozen lawsuits related to Fyre Festival, including one seeking $100 million in damages for disappointed Fyre-goers.