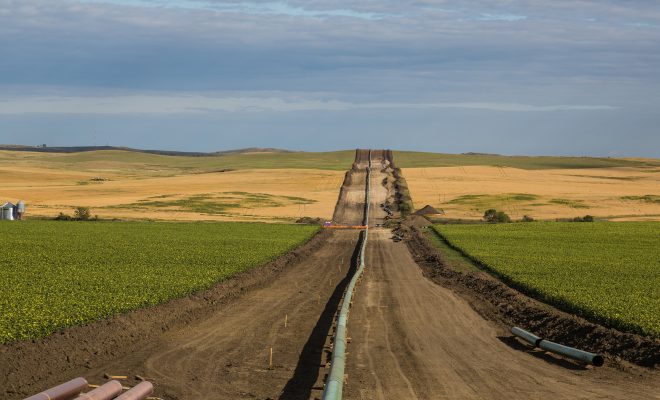 "Bakken / Dakota Access Oil Pipeline" courtesy of Tony Webster; License: (CC BY-SA 2.0)
Energy and Environment
Judge Orders Further Environmental Review for Dakota Access Pipeline
By
|
The long legal battle over the construction of the Dakota Access Pipeline looks like it will continue to drag on after a recent court ruling.
Last week, U.S District Judge James Boasberg ruled that the pipeline, owned and constructed by Energy Transfer Partners, had not undergone an adequate environmental review by the Army Corps of Engineers and that a more thorough environmental review is needed. He wrote:
[The Army] did not adequately consider the impacts of an oil spill on fishing rights, hunting rights, or environmental justice, or the degree to which the pipeline's effects are likely to be highly controversial.
However, it was a partial victory for the environmentalists and Native American tribes who opposed the pipeline's construction. Boasberg said that oil could still flow through the pipeline at this time but indicated that he would make a formal ruling on that decision at a later date.
The judge asked lawyers from both sides to submit written arguments to determine whether the pipeline should be shut down while the Army Corps of Engineers makes its evaluation, or if it should continue to transport oil. A lawyer representing the Sioux tribe expects a decision to be made in September.
This is only the most recent development in the long and complicated battle to establish the 1,200-mile pipeline that will transfer crude oil from North Dakota to Illinois. Since the Army Corps of Engineers published a plan to approve the pipeline route in 2015, there has been a wave of protests, legal challenges, and executive orders to determine the project's status.
In December 2016, the Obama Administration temporarily halted the construction of a controversial segment of the Dakota Access Pipeline, citing the need for a further environmental review. But when Trump took office in January, he signed an executive order calling on the Army to expedite the review process and complete construction as soon as possible.
The Army is still in the process of determining a timeline for the environmental review, but according to the Army Corps of Engineers Lawyer Mathew Marinelli, the Army will have an updated schedule when the first briefs are required by the court on July 17.
The order for a new environmental review in Dakota has created yet another issue for Energy Transfer Partners. The company's construction of another $4.2 billion natural gas pipeline is under a rare public investigation for pollution in Ohio wetlands and the destruction of a historic home. The company could lose $10 million a week if it fails to finish construction by November 1.