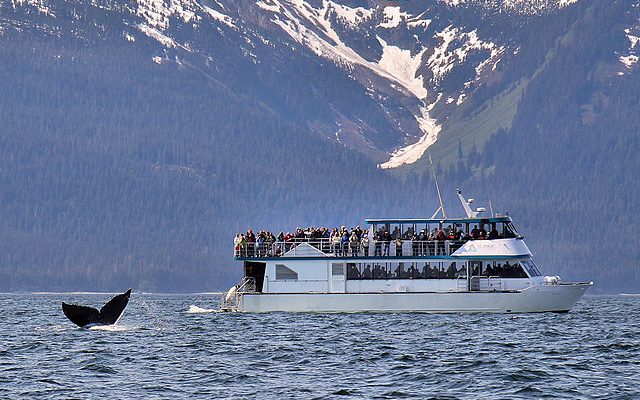 Courtesy of Larry D Moore; License CC 4.0
Energy and Environment
Trump Administration Axes Proposed Rules Meant to Protect Endangered Marine Life
By
|
The Trump Administration rejected Obama-era proposals on Monday that would limit the number of endangered whales, dolphins, and sea turtles that can be killed or injured by sword-fishing nets on the West Coast.
This announcement came through the National Oceanic and Atmospheric Administration's fisheries division and cited studies showing how the number of marine mammals and turtles trapped in long, drifting gill nets–fishing nets that are hung vertically so that fish get trapped in them by their gills–have decreased over the years. A spokesman added that the restriction "would have imposed a cost on the industry to solve a problem that has already been addressed."
The Pacific Fishery Management Council, which manages fisheries in California, Oregon, and Washington introduced the cap in 2015 and it received support from both the fishing industry and environmental groups. Unsurprisingly, those who supported the bill back then were critical of the decision to reject the rules now.
"The Trump Administration has declared war on whales, dolphins and turtles off the coast of California," Todd Steiner, director of the Turtle Island Restoration Network, told the Los Angeles Times. "This determination will only lead to more potential litigation and legislation involving this fishery. It's not a good sign."
Had these proposals been enacted, gill net fisheries could be closed for up to two years if too many animals belonging to nine groups of whales, sea turtles, or dolphins got caught in the nets. The rule would have applied to fewer than 20 fishing vessels.
But the NOAA Fisheries referenced its own analysis that found that the cost of enacting these protections outweighed the benefits, and the fishing industry had implemented measures that greatly reduced the deaths and injuries of protected marine mammals. These measures included better training for skippers of fishing boats, sound warnings–or pingers–attached to fishing nets to reduce the risk of by-catch, and wider openings at the top of nets that gave whales, dolphins, and turtles a better chance to escape. Also referenced was the declining number of protected animal deaths. Deaths and injuries to protected whales dropped from over 50 in 1992 to about one or two a year through 2015. Dolphin deaths and injuries went from almost 400 annually to only a few per year in that same timespan. Pacific leatherback turtles dropped from 17 in 1993 to no more than one a year by 2015.
What NOAA numbers also show, however, is that the number of overall sword-fish net vessels dropped from a high of 129 in 1994 to 20 in 2016. Steiner attributed the drop in animal deaths to this statistic, as opposed to fishermen choosing to abide by these standards.
"The numbers caught per set have not gone down," Steiner said. "The California gill-net fishery kills more marine mammals than all other West Coast fisheries combined."
Katherine Kilduff, an attorney with the Center for Biological Diversity, told the AP that even if by-catch numbers are decreasing, gill nets continue to kill and injure many rare species, such as leatherback turtles, humpback whales, and sperm whales. For some species, their numbers are so few that if even one or two are caught by gill nets, the overall effect can be devastating. Because of that, these restrictions are necessary additions to existing policy, she added.
This is the second recent move by the Trump Administration to roll back Obama-era protections on endangered species. Just last week, Interior Secretary Ryan Zinke said that his department would review a conservation plan for the greater sage grouse with the intention of opening up more of the declining bird's habitat to oil and gas development.