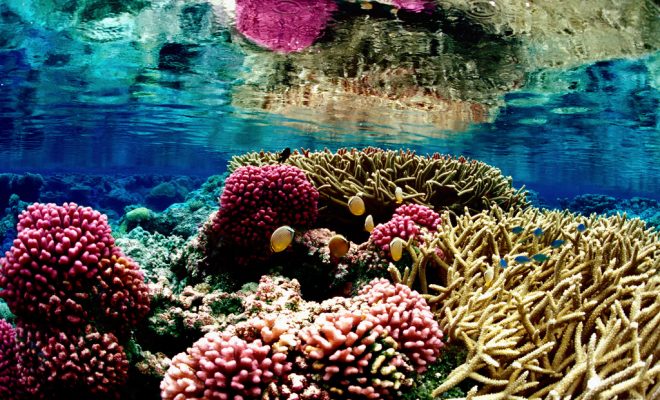 Image Courtesy of [USFWS - Pacific Region via Flickr]
Energy and Environment
Obama Announces the Largest Protected Marine Monument on Earth
By
|
Building on his legacy as Protector in Chief, President Obama will be expanding Papahānaumokuākea Marine National Monument–a pre-existing protected body of water, shoals, and atolls near Hawaii–by hundreds of thousands of miles. Friday's Presidential Proclamation said the motivation behind expanding the monument is "to protect and preserve the marine area of the Northwestern Hawaiian Islands and the historic and scientific objects therein."
Twice the size of Texas, at 582,578 total square miles, the expanded monument is now the largest marine protected area on the planet. Originally granted monument status under President George W. Bush in 2006, Obama's executive order effectively quadruples the size of the protected waters. The move was heralded by Native Hawaiians–who use those waters for ancient cultural traditions and consider them as sacred in creation stories and myths–and conservationists. And while recreational fishing is allowed (with a permit), the longline, commercial fishing industry will take a hit. The Hawaii Longline Association said they haul two million pounds of fish from the designated area annually, the equivalent of $100 million.
What does the expanded @HawaiiReef look like? Check it out in our video: https://t.co/T6iI181j9v #EarthIsBlue

— Sanctuaries (NOAA) (@sanctuaries) August 26, 2016
"We're obviously going up against environmental organizations that have billions of dollars," said Sean Martin, the president of the Hawaii Longline Association. "For somebody to feel good, we're going to force U.S. fishermen out of waters."
While it seems the people who use the sea for its bounty of resources might take a hit from Obama's expansion, the Native Hawaiian community and the species who call the area their home will certainly benefit. According to his Proclamation, the area "supports a dynamic reef ecosystem with more than 7,000 marine species, of which approximately one quarter are unique to the Hawaiian Islands." In addition, it "has great cultural significance to the Native Hawaiian community and a connection to early Polynesian culture worthy of protection and understanding."
Obama to quadruple size of Papahanaumokuakea Marine National Monument against wishes of Hawaii's fishing industryhttps://t.co/ZWPQIaAvEn

— Pacific Biz News (@pacificbiznews) August 26, 2016
The following is a partial list of what is allowed and what is notallowed  within the new protected zone:
Commercial fishing is not allowed.
It is illegal to mine for oil, gas, and minerals in the protected area.
With a permit, recreational fishing is allowed.
Scientific research is allowed.
Native Hawaiians are allowed to remove fish for use in cultural practices.
Even before Friday's announcement, Obama cemented his legacy as the U.S. president who has designated the most land as government protected areas. He has created 26 national monuments covering about 548 million acres of land (or sea), twice as much as any of his predecessors. U.S. presidents were granted the executive authority to designation land as protected regions under the 1906 Antiques Act, which states: "the President of the United States is hereby authorized, in his discretion, to declare by public proclamation historic landmarks, historic and prehistoric structures, and other objects of historic or scientific interest."
Obama's decision to expand the protected area of the Papahānaumokuākea Marine National Monument followed a proposal by Senator Brian Schatz (D-Hawaii) and Native Hawaiian leaders. On Thursday, Obama will travel to the Midway Atoll–a sandy dot within the new protected area, and an important military staging ground in World War II–to give the official announcement regarding the expanded monument.