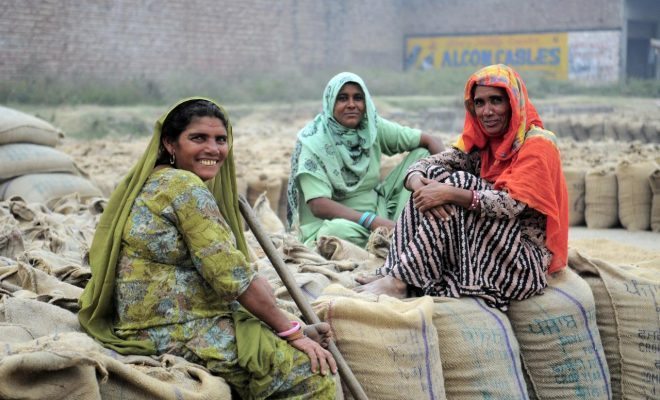 "NP India burning 35" Courtesy of [CIAT via Flickr]
Energy and Environment
The Victimization of Women From Climate Change
By
|
I never thought I would have anything in common with a Kenyan who was born and raised in a small African village, has two master's degrees from the University of Nairobi in Kenya and University of Pretoria in South Africa, worked on environment and development policy in East Africa, and now is a technical leader working in the elevation and advancement of the links between population and environment. But on June 23 we had something in common–we were both sipping ginger ale and conversing over the intersectionality of women's empowerment and climate change. 
Hours before, Clive Mutunga was one of a dozen expert panelists present for "At The Eye of the Storm: Women and Climate Change," an event geared towards fostering conversations about how women are most affected by climate change and the role they play as victims. According to his fellow panelist Jacqueline Patterson, director of the NAACP's Environmental and Climate Justice Program, "Climate change exposes gender vulnerabilities."
"Women are resilience personified." Roger-Mark De Souza opens Wilson Center #EyeOfTheStorm event pic.twitter.com/QAjWDypkfm

— UniversalAccessProj (@UnivAccessProj) June 23, 2016
The experts in attendance consisted of both men and women who held distinguished positions at the Department of Defense, Congress, Project Concern International (PCI), University of Hawaii Law School, Tetra Tech, and Solar Sister. Most of them appeared to be young and in their thirties, yet they had already accumulated impressive resumes consisting of environmental and humanitarian jobs aimed at helping women effected by climate change. Sono Aibe, a senior advisor at Pathfinder International perfectly encapsulated the ideology of the event saying, "There is no justice in climate change. Nature does not choose its victims, we do."
Elhers: Women aren't invisible. We just aren't listening. @NewSecurityBeat #EyeOfTheStorm

— Maria Prebble (@maria_prebble) June 23, 2016
In developing countries, most women must rely on collecting natural resources (water, food, and energy for cooking and heating) to sustain their livelihood and the livelihood of their families. Uncertain rainfall, drought, and deforestation–all common symptoms of climate change–make it harder for women to maintain their livelihood. Compared to men in these poor countries, women are disadvantaged because of their limited access to education, economic assets, and a place at the table to make decisions on how to combat the problem.
At the event, there were three different panels that looked at the different angles in which climate change disproportionally impacts women.
Women in Crises: Conflict, Disasters, and Complex Emergencies
Most of the panelists on this panel had traveled to remote parts of the world, and experienced first-hand how women were at the center of the effects of climate change in some of the poorest areas. They also shared stories of how violence against women during times of environmental crisis are happening right in our backyards. Patterson elaborated on this by sharing a startling stat from Hurricane Katrina–nearly 300 women were raped during and after the lawless days of the storm.
Similar violence happened to women in Sub-Saharan Africa. Kelly Fish, a gender technical advisor for PCI, recounted one story about an African woman she worked with who had to walk for miles to collect firewood in order to cook for her family. Sadly, the same wood that she had walked miles to retrieve, was used as a tool for violence–her husband beat her with it every night.
Walks to collect water from miles away can also be dangerous for women, Fish explained. Women in the area were encouraged to wear female condoms when walking to collect water because the risk of rape was so high.
Our Bodies, Our Planet: Climate, Gender, and Health
With the U.S. Agency for International Development, Mutunga works in areas where contraception isn't easily accessible, or there is a lot of ignorance surrounding it–many women end up raising eight or nine children in poverty-stricken areas. It's not unusual for the daughters who grow up in these families to be sold off as child brides, because as he described during this panel, "Marriage means one less mouth to feed in a poverty-stricken family."
He added that when women have children young, and have lots of them, it decreases their chances of staying in school and in the workforce–perpetuating the cycle of poverty.
Prez @SuzannePAI discussing the importance of #familyplanning in mitigating effects of climate change #eyeofthestorm pic.twitter.com/PV9zaKjRE8

— PAI (@popact) June 23, 2016
Climate Champions: Women Entrepreneurs & Climate Solutions
The stories of women who had been victimized by the effects of climate change were important to the context of the event, however, the point was not to dwell on the tragedies, but to offer solutions.
"It's important that we be climate victors and not climate victims," said Sherri Goodman, former deputy under Secretary of Defense, at the event's final panel.
Neha Misra, Co-Founder and Chief Collaboration Officer of Solar Sister, a company that provides clean energy technology to remote areas of Africa to help empower women, emphasized that the response to fighting climate change "has to include women."
"I believe in a world where women, girls, and their communities have access to the sustainable energy they need to create a prosperous life," she added.
Another panelist, Swathi Veeravalli, a research scientist for the Army Corps of Engineers found in her research that sometimes simple solutions can make a big difference. "If you provide access to lighting, just lightbulbs the incidents of rape go down immediately."
Roger-Mark De Souza, Director of Population, Environmental Security, and Resilience at the Wilson Center went as far as saying, "every problem we have is linked to climate change."
The debate over whether or not climate change is real is essentially over, but it is just the beginning when it comes to grasping what the consequences are. Jane Harman, Director, President, and CEO of the Wilson Center, said women should be at the forefront of creating climate change policy. Harman stated,
Climate change is coming to all of us, but women are the ones who are disproportionally hurt— we bare the burden of sick relatives and personal issues. Women as parents and sisters and caregivers, we are qualified to make security policy and to sit at any security policy table in the world. Who should be the leaders in the climate change policy debate? I would say women.
Following the three panels there was a Happy Hour for the panelists to mingle with the audience. I showed up to the event that day wearing a t-shirt, blue jeans, and dirty converse. To say I didn't fit in with all of the expert panelists and well-dressed young professionals there is an understatement. However, I felt almost a little guilty for worrying about what I showed up in after learning about the women all over the world who have much bigger problems that affect their well-being.
That's how I started my conversation with Mutunga, and he responded in a thick Kenyan accent, "Think how lucky those women would be to worry about what they were wearing." After an inspiring chat with him and learning what I did at the panels, I left the event feeling grateful and motivated to make sure I do my part in helping women impacted by climate change.
Editor's Note: This post has been edited to reflect that one of the featured quotes was said by Sono Aibe, a senior advisor at Pathfinder International.