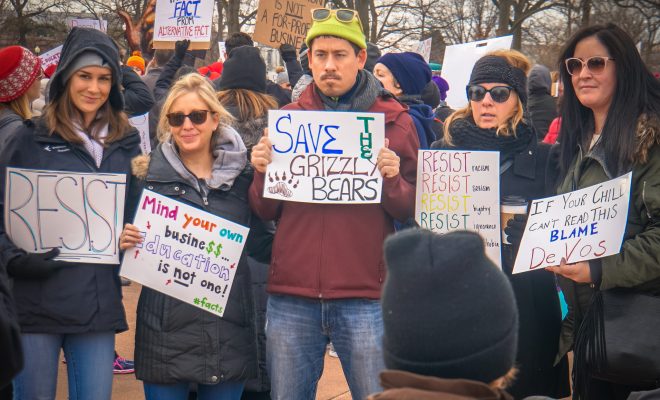 "2017.01.29 Oppose Betsy DeVos Protest, Washington, DC USA 00263" courtesy of Ted Eytan; license: (CC BY-SA 2.0)
Education
Twitter Replies to Betsy DeVos's First Week
By
|
New Secretary of Education Betsy DeVos has had a rough first few days. On Friday morning, she was supposed to make her first visit to a public school in Washington D.C., but she was blocked from entering by a group of protesters. The protesters physically blocked DeVos from reaching the entrance of Jefferson Academy, a middle school. One of them yelled, "She doesn't represent anything they stand for" and another one, "Keep giving money to senators and find your way to positions, you should be proud of yourself."
WATCH: Sec. Betsy DeVos physically blocked by protesters from entering DC school–turned away and left.
Video: @SweeneyABC pic.twitter.com/RAycuKEVgm

— ABC 7 News – WJLA (@ABC7News) February 10, 2017
DeVos and her driver turned around and left, but entered the school through another entrance and met with teachers, the principal, and the chancellor of D.C. public schools.
Earlier in the week, DeVos–or whoever runs her Twitter account–sent out a tweet about her first day on the new job.
Day 1 on the job is done, but we're only getting started. Now where do I find the pencils? 🙂 pic.twitter.com/0vRKF1opE9

— Betsy DeVos (@BetsyDeVos) February 9, 2017
What was probably meant as a cute question did not sit well with the public. A ton of Twitter users offered their answers.
@BetsyDeVos not in the thousands of public schools that can barely afford supplies. Looking forward to you cleaning that lil issue up.

— Erin Weaver (@ByErinWeaver) February 9, 2017
Many others pointed out that public schools are underfunded and that many teachers have to use their own money to buy pencils for the students.
@BetsyDeVos At the store. Something you should know: we teachers buy pencils and supplies for our classes with our OWN money.

— Robin McCauley Lynch (@RobinMcCauley) February 9, 2017
Others criticized DeVos's earlier statement that guns could be necessary in some schools, because students could be threatened by grizzly bears.
.@BetsyDeVos He has them… pic.twitter.com/6UkaKaP0sN

— Shannon Watts (@shannonrwatts) February 9, 2017
Some were wondering what she was going to do with the pencils:
.@BetsyDeVos is this what you plan to do with your pencil while public school teachers work hard to educate and protect students? pic.twitter.com/fzyCPlhLkb

— Jaipreet Virdi (@jaivirdi) February 9, 2017
And yet others came up with ideas for how she could make some money to actually buy pencils:
@BetsyDeVos You worked a whole day but didn't have anything to write with? Maybe you could hold a bake sale to buy some pencils.

— (((David Lytle))) (@davitydave) February 9, 2017
While it was a laughing matter for some, there are still concerns that the new Education Secretary is a billionaire who has no experience working in education or even attending a public school. But as the Washington Teacher's Union said during an earlier, peaceful, gathering; if DeVos succeeds in her new role, everyone succeeds.