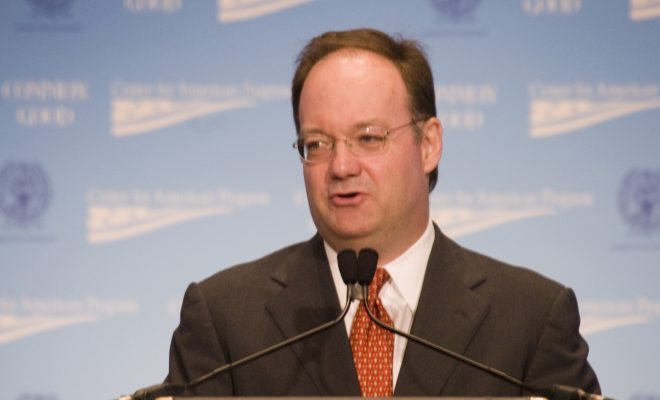 Dr. John DeGioia Courtesy of [Center for American Progress via Flickr]
Education
Georgetown President Meets With Descendant Of Sold Slaves
By
|
For the first time in history, historians believe, a university president met with a descendant of slaves that worked as laborers on its campus. Georgetown University president John J. DeGioia took this historical first step Tuesday in Spokane, Washington, in an attempt to make amends with Georgetown's slave-owning past.
DeGioia met with Patricia Bayonne-Johnson, the great-great-great granddaughter of Nace and Biby Butler, two of the 272 slaves Georgetown sold in 1838–the proceeds partially went to paying off the school's debts in a time of financial distress. The two chatted at the local library for 45 minutes before heading to lunch at the nearby Davenport Hotel.
"I wanted to show him my family, that they are real people," Bayonne-Johnson, an amateur genealogist and retired teacher, said, adding that she respects DeGioia's efforts to "to honor the sacrifice and legacy" of her ancestors.
In 1838, Georgetown University was financially struggling, and sold 272 of its slaves for about $500,000, roughly the equivalent of $3.3 million today. Jesuit priests, who founded and operated the university, owned the slaves. The slaves were sold to Louisiana, uprooting and separating dozens of families.
For years, Georgetown University swore that there were no living descendants of the slaves the school sold back in 1838. But Georgetown isn't the only university grappling with ties to slavery and racism–dozens of others across the nation have recognized their pasts as well. In the fall, students at Georgetown pushed for the removal of the names of two former university presidents from campus buildings due to their involvement in the slave sale.
DeGioia agreed to change the names of the buildings, and went a step further and created a committee dedicated to deciding the university's response to its past. The list of possibilities includes: apologizing for profiting from slave labor, creating a memorial to those that were enslaved, or providing scholarships for their descendants. The report is expected to come out this summer, according to DeGioia.
Inspired by the protests last fall, Georgetown alum Richard J. Cellini founded the Georgetown Memory Project, a nonprofit to help find and support the descendants of the slaves who were sold. Bayonne-Johnson is involved in the project, along with seven other genealogists and several researchers.
Earlier this year, the university built an online digital archive that consists of records describing the slave sale and the Jesuit and Louisiana plantations. Craig Wilder, a historian at the Massachusetts Institute of Technology applauded how Georgetown is handling their past. "Georgetown has made a decision to recognize the humanity of the problem they're dealing with, to treat it as more than a public relations problem," he said.