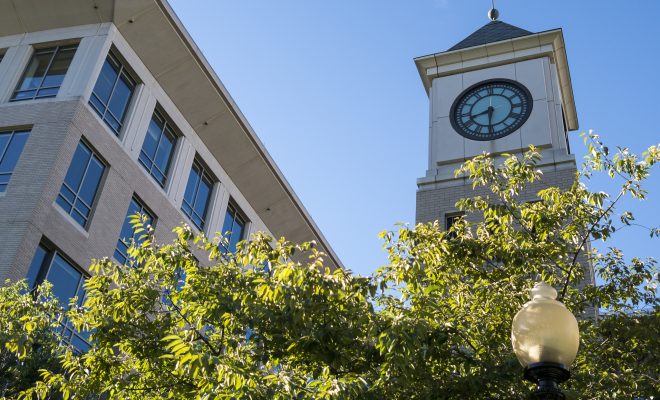 "Georgetown University Law Center" Courtesy of Phil Roede;r License: (CC BY 2.0)
Schools
Tiffany Trump Chooses Georgetown Law
By
|
For months, journalists and law school professors speculated about where Tiffany Trump, President Donald Trump's daughter from his second marriage, would end up for law school. Though she toured Harvard, Columbia, and New York University, no one was certain where she had applied or been accepted.
But on Monday, officials at Georgetown University in Washington, D.C. confirmed that Trump had "taken all the steps to enroll" in their law school.
Trump is somewhat following in the footsteps of her older half siblings. Eric Trump, Donald Trump's second son from his first marriage, graduated from Georgetown with a finance and management degree. The president's oldest daughter Ivanka, also from his first marriage, attended Georgetown for two years before transferring to the University of Pennsylvania's Wharton Business School. Like her half sister, father, and half brother, Donald Trump Jr., Tiffany Trump attended the University of Pennsylvania as an undergraduate.
In a Washington Post article published this March, writer Roxanne Roberts questioned whether or not Trump's family name would boost her chances of getting into an elite school. U.S. News and World Report ranked Georgetown Law as one of the country's top 20 law schools–it is tied for 15th place with the University of California-Los Angeles. With an acceptance rate of 26.4 percent, it is also highly competitive.
But Trump is forging her own path in a few ways. While her siblings and father all studied business, she opted to major in sociology. She is also the first of the president's children to pursue law school.
The choice in law school also means that Trump, who had mostly kept a low profile throughout her father's campaign, will now be in close proximity to the White House.
How will Trump's classmates and professors treat her when she gets there? Her father's policies have made him unpopular with a number of Georgetown students. In March, the university joined more than 30 other schools opposing the president's immigration ban in a Virginia circuit court. Last month, Georgetown hosted a panel featuring presidential adviser Sebastian Gorka, who left early when student protesters in attendance started asking questions about Donald Trump's spread of fake news and attitude toward the Muslim community.
Not to mention the fact that officials at a handful of law schools around the country, including Georgetown, are seeing increased interest in the profession from students in response to Donald Trump and the numerous lawsuits that have been filed against his administration. When it comes to Trump's immigration ban or his overseas business ties, lawyers have been a key part of resisting his policies and trying to hold him accountable.