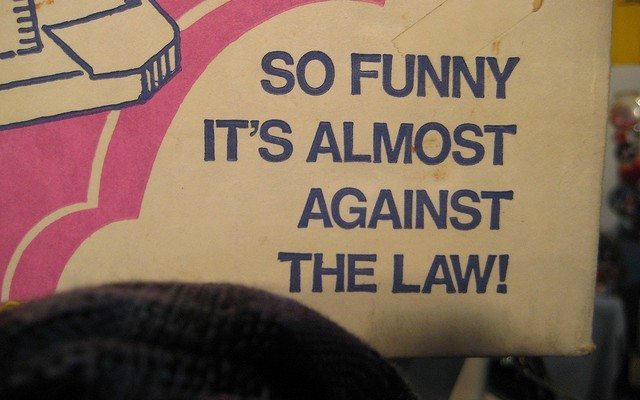 Blogs
Dubious Defenses: When Humor and the Court Just Don't Mix
By
|
Journalist Mignon McLaughlin once said that "a sense of humor is a major defense against minor troubles." However, in the legal world, the inverse is often shown to be true: a sense of humor is only a minor defense against major troubles.
When pleading insanity just seems too mundane, creative criminal defendants come up with some unusual defenses to prove their innocence; but, funny as these may be, do they actually work? Maybe sometimes, but let's look at two such defenses that most likely will never lead to an innocent verdict.
Fat Men Can't Murder
In 2006, the ironically named Edward Ates was accused of driving from Florida to New Jersey to kill his son-in-law. Even though the prosecution painted Ates as a competent marksman with some military experience, said he had been doing online research on how to kill, submitted a conversation he had with his sister in which they went over the timeline of events, and had his own sister testify that her brother had her lie to the police about where he was at the time of the murder, his attorney said Ates could not possibly be the killer.
But why?
Well, for one, the damning military experience turned out to be a desk job. Also, apparently people with too much time on their hands often pick up hobbies — up to and including researching methods to commit murder. Oh yeah, and did I mention he was really, really fat? Because that's important.
You, like the defense, might be asking yourself how a man who weighed 300 pounds at only 5'8" could possibly drive for 21 hours straight, walk up four steps, and still manage to hold a gun straight. My guess is that it was just the adrenaline rush you get in exciting situations; instead of suddenly being able to lift a car off a child, perhaps this guy was able to make a short climb in order to get rid of someone who must have been — assuming guilt here — a real nuisance in his life. The defense, on the other hand, apparently wouldn't have bought my potential solution. According to them, there was no way this man could have successfully completed such a physically taxing feat, and thus he must be innocent.
As it turns out, the jury at this trial didn't buy the obesity defense and the fat man was convicted of first degree murder.
(This case actually made it on appeal to New Jersey's highest court in States vs. Ates, 217 N.J. 253 (2014), but it got there on the merits of whether the admitted evidence of the wiretapped call between Ates and his sister was legal in the state of New Jersey — not on whether obesity is a legitimate legal defense. The high court concluded that the evidence was admissible, and the verdict stands.)
Good Jokes Aren't Illegal
Did you hear the one about the man who "accidentally" poured gasoline on his nag of a wife and then pulled out a lighter and tried to light it — all while winking at his young son? Do you get the punch line? I don't, but there must be one somewhere in there or otherwise the defense that this all happened "as a joke" just wouldn't make sense.
I am the type of person who likes to find humor in life. I am always up for a good joke, whether knock-knock or practical. However, Khemraj Samlall's recent "prank" just seems to have fallen flat.
This all started when Samlall got home really late, or rather really early, one morning and, as is not surprising, when he arrived, he was a little drunk. His wife was not thrilled. She berated him for his actions; he threatened her with a knife in front of her child, went and got a gas can, doused her in gas (not on purpose according to him), and then pulled out a lighter. Basically, tit for tat.
According to him, this was all done as a joke. Are you laughing as hard as he apparently was? As the events mentioned above only happened recently, there has yet to be a trial, though Samlall has been accused of "aggravated assault with a deadly weapon without the intent to kill." And while I normally try to keep my legal opinions to myself, I feel pretty confident that I know how this defense will work out for Samlall if he can find an attorney willing to try it: if nobody laughs at your joke, it probably isn't funny.
Justice Scalia once said, "I don't want a competent lawyer. I want a lawyer who's going to get me off." United States v. Gonzalez-Lopez, 548 U.S. 140 (2006). However, if your counsel — or intended defense — is neither competent nor likely to work, maybe you should move on to plan B.
—
Ashley Shaw (@Smoldering_Ashs) is an Alabama native and current New Jersey resident. A graduate of both Kennesaw State University and Thomas Goode Jones School of Law, she spends her free time reading, writing, boxing, horseback riding, trivia, flying helicopters, playing sports, and a whole lot else. So maybe she has too much spare time.
Featured image courtesy of [Divine Harvester via Flickr]