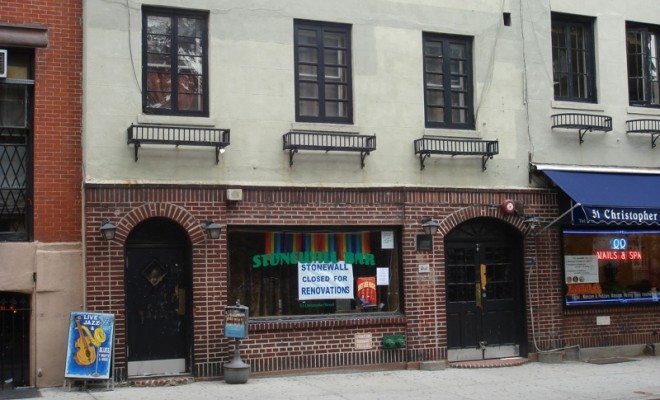 "Stonewall" courtesy of [justinfeed via Flickr]
Society and Culture
Will the Stonewall Inn Become an Official National Monument? It Looks Very Likely
By
|
News broke this morning that President Barack Obama is planning on declaring Stonewall Inn and the immediately surrounding area in New York City as a national monument. The monument would commemorate the struggles of the gay rights movement, and recognize the 1969 arrests and protests at the Stonewall Inn as an early flashpoint for the movement.
Details are still being ironed out, but the official announcement from Obama could come as soon as next month. Officials, including Interior Secretary Sally Jewell, National Park Service Director Jonathan B. Jarvis and Representative Jerrold Nadler, D-N.Y., are going to be holding a hearing on the proposal to gain feedback, and the federal government is working out details with the city.
The Stonewall Inn was a bar in Greenwich Village (while the structure still stands, the bar has moved into a separate building next door.) In the late 1960s it was a well known hotspot for LGBT individuals, particularly gay men, and on June 28, 1969, it was raided by the police. Keep in mind this was a totally different era–for example, the Supreme Court decision Lawrence v. Texas that struck down sodomy laws didn't happen for almost 35 years. Patrons could be arrested for wearing full drag, or lacking identification. Women at the bar had to wear "three items of feminine clothing" or they could be arrested as well.
The night of June 28, the raid didn't go according to plan and riots and protests broke out. The protests continued for the rest of the week, making city-wide and national news. Stonewall is now viewed by many as the birthplace of the modern gay rights movement. It already has New York City landmark status, and according to Salon was the first "site in the city designated as a landmark for its role in LGBT history."
The dedication of Stonewall as a monument has had significant support from both of New York's Senators–Senator Chuck Schumer and Senator Kirsten Gillibrand have introduced legislation to that effect. Schumer stated:
It's time for the Stonewall Inn to take its place in the panoply of sites and events that were sparks in the march to the kind of freedom and equality that is the very wellspring of the American Dream. Making the Stonewall Inn site a unit of the National Park system is the right thing to do.
Gillibrand's sentiments were similar; in a statement released by her office she opined:
Whether it's the right to marry the person you love, or the repeal of 'don't ask, don't tell,' we've come so far in the push for equal rights. It's past due for a national monument honoring the legacy and events that took place at Stonewall and the L.G.B.T. rights movement in our country.
Unless something comes up, it looks likely that Obama could name Stonewall as a national monument next month–a fitting month given Stonewall's history.