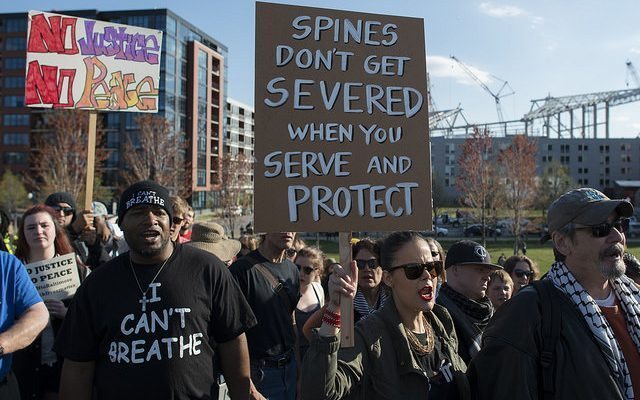 Image Courtesy of [Fibonacci Blue via Flickr]
Society and Culture
Twitter Reacts: Baltimore Officer Acquitted in Freddie Gray Death
By
|
A Baltimore judge acquitted Officer Edward Nero of all charges for his role in the arrest and death of Freddie Gray, the 25-year-old black man who died a week after sustaining a severe spinal injury while in police custody on April 12, 2015.
Nero waived his right to a  jury trial, opting to argue his case before a circuit judge. After six days of hearings, Judge Barry Williams found him not guilty of second-degree assault, reckless endangerment, and two counts of misconduct in office.
Nero is the first of the six officers charged to receive a verdict for his involvement in Gray's death. However, he's not the first officer to go to trial. In December, Officer William G. Porter was awarded a mistrial after a hung jury failed to deliver a unanimous verdict–they claimed they were deadlocked on every charge.
Following the verdict, Baltimore Mayor Stephanie Rawlings-Blake said in a statement,
This is our American system of justice and police officers must be afforded the same justice system as every other citizen in this city, state, and country. Now that the criminal case has come to an end, Officer Nero will face an administrative review by the Police Department. We once again ask the citizens to be patient and to allow the entire process to come to a conclusion.
But it's hard for the citizens of Baltimore to remain patient, when so many of the details surrounding Gray's death still remain unclear.
What we do know is that Gray took off running after making eye contact with police. After being chased on foot, Gray was caught and found with an illegal switchblade in his possession. Gray was then arrested and placed in the back of a police van without a seatbelt and with his legs shackled. At some point during the half-hour drive to the jail Gray suffered a spinal injury, which many attribute as the result of a "rough ride," a form of police brutality. Gray died in a hospital a week later.
Gray's death helped reignite the #BlackLivesMatter movement, and sparked legendary riots in the city of Baltimore that quickly escalated into violence.
After news of Nero's acquittal went public, the hashtag #FreddieGray shot to the top of Twitter's trending topics. And just like the Baltimore riots, frustration over Gray's death began to bring out the worst in people on social media. Some people spoke of rioting and hurting cops, while others dolled out celebratory racial slurs and mocked Gray's death.
But for the vast majority of hashtag users, it wasn't violence or jubilation they wished to convey–it was outrage.
Video shared by @LarryCFOX45 shows protesters reacting to not guilty verdict in Edward Nero trial #FreddieGray pic.twitter.com/x6ABnVRmmk

— BuzzFeed News (@BuzzFeedNews) May 23, 2016
I remember you today, #FreddieGray. I'm praying for your family. The pursuit of justice and peace continues. pic.twitter.com/3Uj653ibqx

— Be A King (@BerniceKing) May 23, 2016
1 Police kill someone 2 Police lie to the media 3 We talk about it 4 The media talk about it 5 System stays the same 6 Repeat #FreddieGray

— Lex Looper (@lex_looper) May 23, 2016
Still trying to figure out how #FreddieGray died a violent death while shackled and in police custody, and nobody is held accountable.

— JustCallMeHerb (@JusCallMeHerb) May 23, 2016
1 hung jury & 1 not guilty verdict but #FreddieGray dead from a severed spine after contact with said cops. #BlackLivesMatter? Clearly not.

— VanityByNature (@VanityByNature) May 23, 2016
#FreddieGray had his Constitutional rights completely & utterly violated. The use of lethal force by American police officers needs reform.

— سامر / סאמר (@MashriqLands) May 23, 2016
Twitter is an especially racist and ugly place today. All we want is justice. #FreddieGray #Baltimore #BlackLivesMatter

— kamau Waset (@KamauWaset) May 23, 2016
The four remaining officers still await individual trial in connection with Gray's death, and Officer Porter also awaits a retrial. If these past trials are any indication of what is to come, it's beginning to look doubtful that any of the officers will be found guilty.