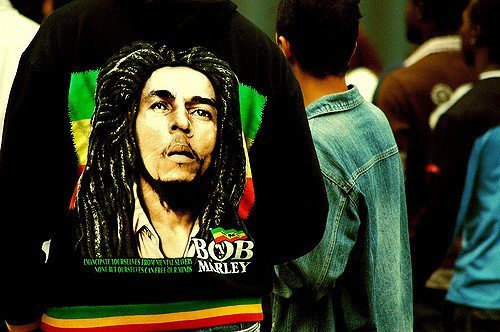 Bob Marley Courtesy of [mdemon via Flickr]
Society and Culture
Snapchat's 4/20 Bob Marley Filter Will Give You Digital 'Blackface'
By
|
Snapchat rolled out a new Bob Marley-inspired filter Wednesday in honor of 4/20 (aka National Weed Day) that gives snapchatters both dreadlocks and a noticeably darker skin tone, and people are pissed.
The filter allows users to warp their faces into a cartoonish interpretation of the late singer that many argue is tantamount to digital blackface.
Snapchat's half-baked 420 nod is a Bob Marley blackface filter?! Dude was Jamaican! Did waaaay more than smoke weed. pic.twitter.com/t6tazxnMxT

— Brian Ries (@moneyries) April 20, 2016
Things nobody looks good in: peplum, propeller hats, Bob Marley's face

— Erin Gloria Ryan (@morninggloria) April 20, 2016
Well, there's a Bob Marley @Snapchat filter for today. (Just in case you didn't want the effort of buying paint to do blackface.)

— Tré Pina (@TreLingual) April 20, 2016
However, some people took more offense to the timing of the filter's release than to the actual filter itself. Snapchat is in the habit of creating holiday themed filters and banners for its users. Since April 20's date is synonymous with "weed culture," rolling out Marley's image effectively claimed him as the poster boy for marijuana.
I take more issue with the Bob Marley filter being used for 4/20 than I do with it being "blackface"…

— Pastor Courvoisier (@PLAIDvillain) April 20, 2016
This bob Marley filter for 420??

Bob Marley the symbol of weed orrrr a symbol of love & good music?

I'm confused.

— Mrs. King❤️ (@_zolarmoon) April 20, 2016
The anger didn't stop there. Snapchatters also took offense with Kylie Jenner's use of the filter. Jenner drew criticism after playing around with the filter in a pair of videos seen below in which she says, "420. Yaaas, bitch," Jenner exclaims. "Yaaas."
In retrospect, Jenner's choice seems more haphazard than intentional, but still ill-conceived nonetheless. In an ironic twist, Jenner's reality show "Keeping Up With the Kardashians" famously covered the topic of blackface in an episode that chronicled her older sister Kim's reaction to being approached by a fan offensively pretending to be Kanye.
Snapchat later revealed in a statement Wednesday that the filter was in fact created with the Bob Marley estate's blessing. The statement read,
The lens we launched today was created in partnership with the Bob Marley Estate, and gives people a new way to share their appreciation for Bob Marley and his music. Millions of Snapchatters have enjoyed Bob Marley's music, and we respect his life and achievements.
Even if Marley's filter was sanctioned by his estate, that doesn't give the public any less of a right to critique the image and hold Snapchat accountable for its cultural appropriation.