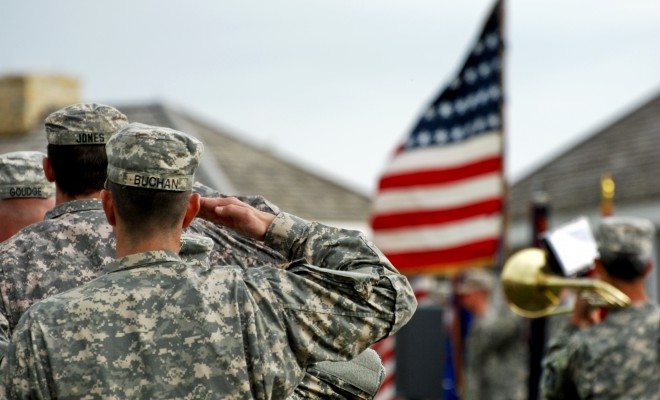 "Departure Ceremony" courtesy of [The U.S. Army via Flickr]
Society and Culture
Sikh Army Captain Wins Religious Freedom Victory
By
|
The Army has taken a step toward a more inclusive work environment this past week. Decorated Captain Simratpal Singh was finally granted the right to fully practice his religious faith while serving in the army. Captain Singh practices the Sikh faith, in addition to 500,000 other Americans, according to the Sikh Coalition. As a Sikh, Singh wears his unshorn hair in a turban and has a beard. Up until April 1, 2016, he did not have the long-term religious accommodation to wear a turban and keep his hair unshorn–but that just changed.
Singh's story begins 10 years ago at West Point. In his first year he had to shave his head and beard in order to continue his education. In the New York Times, Dave Philips interviewed Singh about this experience a decade ago. Singh said,
As terrible as it sounds when I showed up at West Point, I accepted defeat. But I promised myself I would find a way back to my roots while also serving my country. I knew I would figure out a way.
Singh went on to graduate with an honors degree, serve as a Army ranger in Afghanistan, and earn a Bronze Star as well as an Army Achievement Award. The year after Singh graduated from West Point the Army began allowing Sikhs to serve with turbans, beards, and unshorn hair through a special waiver. Once Singh graduated with his Masters in electrical engineering last fall he told his commander he intended to report to his next assignment with his turban, unshorn hair, and beard. He then submitted a written request for religious accommodation. Assistant Secretary of the Army Debra Wada granted him permission to wear the turban, unshorn hair, and beard on December 09, 2015 in a letter, but only on a temporary basis. In the letter Wada wrote,
You may wear a beard, turban, and uncut hair in a neat and tidy manner that presents a professional and well groomed appearance. The bulk of your hair, beard, or turban may not be such that it impairs your ability to wear the Kevlar helmet or other protective equipment or impedes your ability to operate your assigned weapon, military equipment, or machinery…This religious accommodation may be revoked if required by military necessity.
What makes this scenario particularly incredulous is that Sikhs served in the U.S military from WW1 through 1981 without restrictions on their religious articles of faith. Sikhs already enrolled in the services before the 1981 restriction were grandfathered. The Army claims the turban and hair could impede the soldiers from fully securing gas masks on themselves, or other protective gear, yet military divisions in Canada, the United Kingdom, and Australia allow Sikhs to serve without any restrictions.
Court rules in favor of Sikh soldier. Breaking on military religious discrimination case: https://t.co/Z0rcvqko9l pic.twitter.com/abRlt3vOqA

— Sikh Coalition (@sikh_coalition) March 4, 2016
In early March, Singh went to court to protest the additional gas mask test the Army required of him to make a final decision on his religious accommodation request. Singh had already done gas mask testing with his unit, so he argued the additional test targeted him because of his religious articles of faith. He filed a restraining order under "unusual or discriminatory testing," and U.S. District Judge Beryl Howell ruled in his favor.
Singh achieved his religious accommodation last week with the help of the Sikh Coalition, The Becket Fund for Religious Liberty, and law firm of McDemott Will and Emery. It's a huge win for Singh and there is solace in this victory for the Sikh community. He told New York Times,
Throughout the Army's history, it's been slow to move but has always moved in the right direction. I think that happened here. It only makes sense that our military would reflect the diversity of our nation. Kids like me used to be told you can be anything you want to be, but you can't serve your country in uniform. That is no longer the case.
However, Singh's victory does not overpower the fact that any other Sikh wishing to wear his turban will have to go through a petition process for religious accommodation. Freedom of religion is, in essence, as old as our armed forces–it's about time that was recognized.