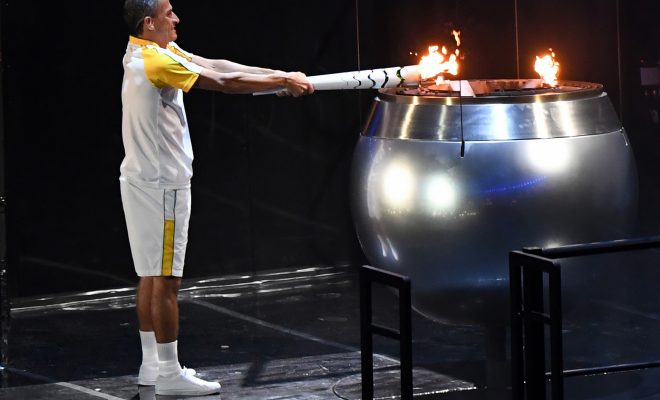 "Vanderlei Cordeiro de Lima lights cauldron" courtesy of [U.S. Army via Flickr]
Society and Culture
The Olympics in Rio Has Started and BLM Hopes to Make a Change
By
|
The Olympics in Rio de Janeiro have finally started, with the official opening ceremony on Friday night celebrating the history and culture of Brazil. But it's not all fun and games–activism is present too and the Black Lives Matter movement hopes to make its voice heard.
Brazil has had a rough time leading up to the games. The country is in a tough recession, the impeachment of President Dilma Rouseff weighs heavily, doping scandals abound, and the Zika virus and contaminated water concerns have made the games a hard task for organizers.
But the ceremony was a success despite a limited budget, featuring the Brazilian National anthem played by acoustic guitars, and traditional dancing as well as a tribute to the different peoples who make up the country of Brazil.
#Olympics2016 underway with opening ceremony highlighting Brazilian history https://t.co/d01ObmmrsG pic.twitter.com/LJiaXyqqXv

— ABC7 Eyewitness News (@ABC7) August 6, 2016
This is the first Olympics held in South America, so there are high expectations for this year's event. And naturally, activists take the opportunity to get their issues acknowledged in the limelight.
The Black Lives Matter movement is well established in the U.S., but Brazil does not yet have an equivalent movement that is as vocal and well organized. That is why on July 23, a couple of activists from BLM traveled to Rio to walk together with some 200 Brazilians in a protest march against police violence. The march ended in a ceremony at the Candelaria Cathedral, the location of the 1993 police killings of eight children sleeping by the church.
The population of Brazil is very diverse due to its history of European explorers, Black slaves, indigenous people, and Japanese immigrants. People with darker skin tones are often discriminated against and victims of police violence–according to an August 2016 report by Human Rights Watch 77 percent of victims of police killings in Brazil are Black.
"The most important thing that we can do is build together and mobilize our people to spread the word," said Daunasia Yancey, a BLM member among those in Rio, to AOL news.
This obviously isn't the first time that activists have taken action at the Olympics. Back in 1968, athletes took a stand against racism and police violence when runners Tommie Smith and John Carlos raised their fists during the Summer Olympics in Mexico.
https://twitter.com/pbeckham_/status/761656365680951297
Other athletes have gotten involved in this activism as well. Recently, Michael Jordan has spoken out against the shooting of Black Americans by police officers, saying: "I am saddened and frustrated by the divisive rhetoric and racial tensions that seem to be getting worse as of late. I know this country is better than that, and I can no longer stay silent."
"No kind of demonstration or political, religious or racial propaganda is permitted in the Olympic areas" says a clause in the Olympic handbook. But even though it may not be articulated, big sporting events always involve politics in one way or another. It could be an important stage for BLM as well as other movements to highlight their issues during such a widely observed sporting event.
This year, it remains to be seen whether any athletes take action and show their political agenda, and how far they are willing to go.