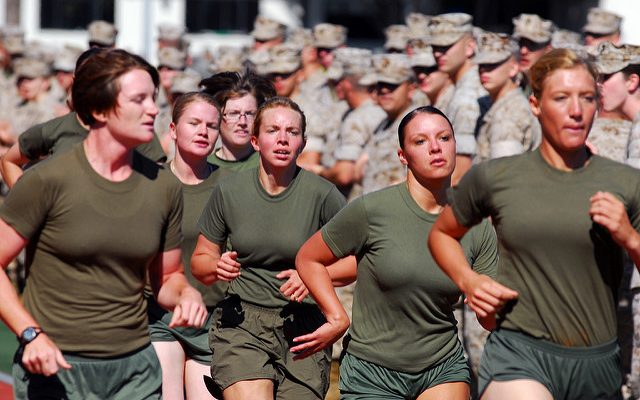 "Commander's Cup Run" Courtesy of Presidio of Monterey : License Public Domain
Society and Culture
The Marine Corps Nude Photo Scandal Extends to All Military Branches
By
|
The nude photo scandal currently rocking the Marine Corps is much bigger than first imagined, going way beyond the one branch and a single Facebook page. According to Business Insider, the U.S. Department of Defense has widened its investigation into the secret sharing of naked photographs of female Marines on social media to include all branches of the military.
Investigators discovered dozens more photos on the website AnonIB, which first gained notoriety for publishing stolen nude photos of Jennifer Lawerence and other celebrities. Under a message board dedicated to military personnel, men from all branches of the military shared sexually-explicit photos of female service members and veterans containing their full names, rank, where they were stationed, and even their links to their social media accounts.
The exposure of the message board comes shortly after hundreds of photos of nude, semi-nude, and clothed women were discovered on the private Facebook group Marines United, which had approximately 30,000 male active duty and retired Marines.
The photos–some appearing to have been taken without the women's knowledge–were accompanied by vulgar and obscene comments, many encouraging rape. The Facebook group also contained links to a now-deleted Google Drive containing even more images, and an invitation to any members to contribute.
The page was discovered last week by journalist Thomas Brennan, who is also a Marine veteran. Brennan's reporting led to the Marine Corps opening an investigation into the Facebook page and its users. The Marine Corps responded with a 10-page guidance, which lists resources for victims and a website to report crimes
The guidance contained the following statement:
The Marine Corps is deeply concerned about allegations regarding the derogatory online comments and sharing of salacious photographs in a closed website. This behavior destroys morale, erodes trust, and degrades the individual. The Marine Corps does not condone this sort of behavior, which undermines our core values.
"A Marine who directly participates in, encourages, or condones such actions could also be subjected to criminal proceedings or adverse administrative actions," the Marine Corps says.
Several active-duty marines have already been discharged and NCIS investigators are considering felony charges that could carry a maximum penalty of seven years in prison.
The scandal comes at time when the military has repeatedly been accused of mishandling sexual harassment and sexual assault cases. Victims have already begun to come forward and encourage others to do so as well.
A former Marine, Erin Kirk-Cuomo, told CBS News that servicewomen have been reporting websites like "Marines United" for more than 10 years but were ignored. She said the issue was "laughed off by military leadership and members as harmless, expected, or invited."
This time around, military officials and investigators seem devoted to pursuing justice. However, investigators could run in to trouble trying to find and prosecute active duty servicemen who used the AnonIB website. Unlike on the Facebook page where many active duty members posted using their personal accounts, the message board's users are mostly anonymous. According to Business Insider, the site also appears to be registered in the Bahamas, which is outside U.S. law enforcement's jurisdiction.