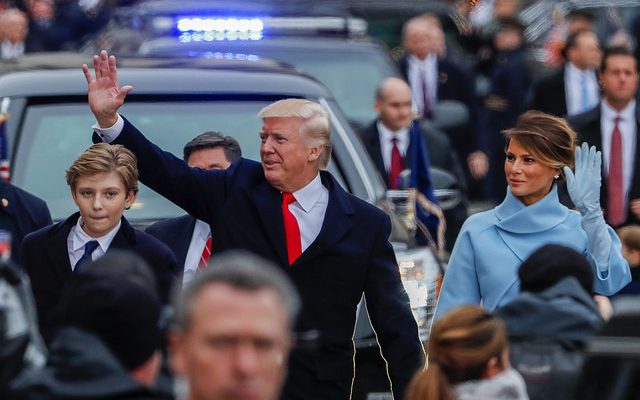 "US Presidential Inauguration" Courtesy of Andres Castellano: License (Public Domain Mark 1.0)
Society and Culture
Former First Daughter Chelsea Clinton Comes to the Defense of Barron Trump
By
|
It's an unwritten but profusely underlined rule in Washington that you don't make fun of the president's children, but after Donald Trump's inauguration this weekend, some users on Twitter didn't seem to get the memo.
In the midst of the inauguration festivities this past weekend, a number of Twitter users made Barron Trump, the president's youngest son, the butt of a whole host of jokes.
Is it just me or does Barron Trump look like King Joffrey? pic.twitter.com/lJKVyfqgDw

— Game of Thrones Meme (@Thrones_Memes) January 21, 2017
Until @katiemaryrich either profusely apologizes to #BarronTrump or is fired, I will join the many who #BoycottSNL. Loyal viewer since 1975. pic.twitter.com/haQ6PRcHWn

— (((ProperGander))) (@BamaStephen) January 21, 2017
In response to these jokes, a lot of people called foul, reiterating a point that many have preached for decades: the first children are off limits. Former first daughter Chelsea Clinton took to social media on Sunday to express her feelings about the Barron situation:
Barron Trump deserves the chance every child does-to be a kid. Standing up for every kid also means opposing @POTUS policies that hurt kids.

— Chelsea Clinton (@ChelseaClinton) January 22, 2017
Clinton's support for Barron comes two weeks after former first daughters Jenna Bush-Hager and Barbara Bush penned a letter in TIME in support of Malia and Sasha Obama, praising them for their grace while their parents served as president and first lady and wishing them well on the lives they will embark on after their parents' time in the White House.
"You attended state dinners, hiked in national parks, met international leaders and managed to laugh at your dad's jokes during the annual Thanksgiving turkey pardon, all while being kids, attending school and making friends. We have watched you grow from girls to impressive young women with grace and ease," the Bush twins wrote.
"And through it all you had each other. Just like we did . . . Make mistakes—you are allowed to. Continue to surround yourself with loyal friends who know you, adore you and will fiercely protect you. Those who judge you don't love you, and their voices shouldn't hold weight. Rather, it's your own hearts that matter."
Considering the showings of solidarity that we've seen over the past month among first children, Clinton's tweet comes as no surprise. It is also not much of a surprise that Barron has been subject to taunting and jokes. Despite the taboo, there's a somewhat rich history of commenting on the first children, and every time the jokes have been criticized as out of line.
As a teenager in the White House, Chelsea Clinton was mocked for her looks and even compared to a dog by modern-day Adonis Rush Limbaugh.
In 2001, the Bush twins were caught drinking underage which led to a wave of headlines mocking and criticizing the first daughters for their actions. And, most recently, the Obama sisters were criticized by a Hill staffer who told them to "show a little class." The staff member, Elizabeth Lauren, apologized and later resigned.
On Monday, NBC suspended "Saturday Night Live" writer Katie Rich for her tweet about Barron Trump, which she has since apologized for. While some have seen NBC's action as justified, others have come to the defense of Rich, highlighting that crude comments from President Trump and other politicians have not been met with the same kind of swift reprimand.
That Katie Rich joke was just "writers room talk."

— Moshe Kasher (@moshekasher) January 24, 2017
Katie Rich should have never tweeted that joke. She should have said it on an Access Hollywood bus. Then no one would care.

— Dan Wilbur (@DanWilbur) January 23, 2017
It's interesting that a writer on SNL is held to a higher standard of language than the man we elected @POTUS @katiemaryrich #stupid

— Chelsea Handler (@chelseahandler) January 24, 2017
Katie Rich suspended from job for joke. Bill Kintner still at work. Once again proving NBC has stricter policies than our Govt. https://t.co/GsUBIB6wfJ

— Paul Scheer (@paulscheer) January 24, 2017
For their part, the White House issued a statement on Tuesday that called for privacy for Barron. "It is a longstanding tradition that the children of Presidents are afforded the opportunity to grow up outside of the political spotlight," the statement reads. "The White House fully expects this tradition to continue. We appreciate your cooperation in this matter."