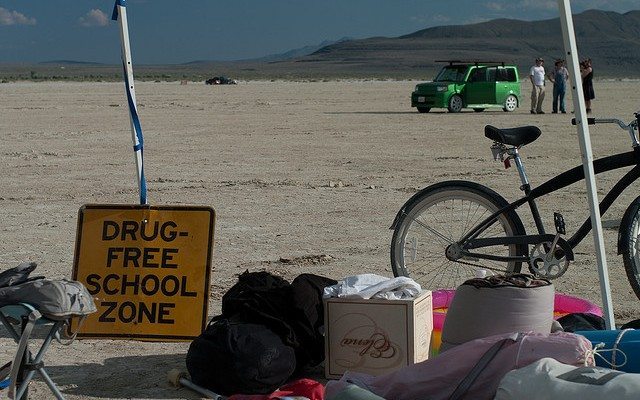 Image courtesy of [Ed Hunsinger via Flickr]
Society and Culture
Felony Charges For Teachers Involved in Cocaine & Sex Trip
By
|
Hey y'all!
Yet again I have to question what is wrong with the female teachers in this country. Back in January, two teachers were arrested for allegedly having a beach sex party with five male students in California. Yesterday these two sick, sad teachers were hit with new charges. Melody Lippert, 38, and Michelle Ghirelli, 30, are both charged with a felony count of unlawful sexual intercourse and a felony count of giving a controlled substance to a minor. Ghirelli has also been charged with a felony count of oral copulation of a minor.
According to Ghirelli's attorney, Stephen DeSales:
We intend to plead not guilty and intend to vigorously defend this case. What you will get from the district attorney is what they think they can prove. There's two sides to every story.
I'm sorry, how is there a second side to this story that would make sense? These two women had sex with young boys at a beach and supplied the booze and drugs to go along with it.
I'm a few months shy of 30 and the idea of sex with a teenager is just repulsive, not to mention wrong. How do teachers and administrators at schools expect parents to feel comfortable sending their kids there when there is the possibility that their child is being preyed upon by the very people who are supposed to be protecting and teaching them?
I hope these women are convicted swiftly and thrown in jail. Registered sex offenders immediately!
I'm so disgusted by the number of female school teachers who have been arrested and convicted of sexual encounters of some kind with their students. It is unreal. I used to always suspect male teachers more than anyone, wrong I know but true. Nowadays you can't go a month without hearing about some female teacher having some kind of sexual encounter with a student. Something is fundamentally wrong with these women and clearly the punishment is not strict enough to deter any of them from doing what they are doing. Perhaps the laws need to be revisited and a harsher punishment should be considered. These women are predators. These women are pedophiles. Desperate, pathetic disgusting pedophiles.