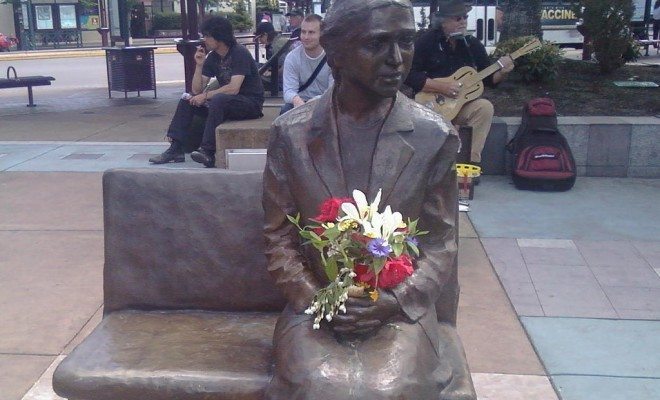 Image courtesy of [rfduck via Flickr]
Society and Culture
Delusions of Grandeur: Ammon Bundy Compares Himself to Rosa Parks
By
|
Today in the category of "news I thought was a joke but actually is real" we have people watching a puddle in the UK via Periscope, a Canadian company that sort of solved that debate about how dogs wear pants, and Oregon terrorist Ammon Bundy compared himself to Rosa Parks. Happy Wednesday, everyone.
In case you aren't caught up on your crazy people in Oregon news, here's the skinny. Over the weekend a group of armed men took over a wildlife reserve in Oregon. Fellow Law Streeter Alexis Evans wrote a good rundown of exactly what's happening there, but long story short: there's a standoff in which the armed "militia members" are demanding vague things about the Constitution and federal land and no one really knows when this is going to end (although law enforcement is developing a plan to deal with the situation.)
The entire thing has been bizarre and upsetting to say the absolute least, but it got even more bizarre and upsetting last night, when the ringleader of the group Ammon Bundy tweeted this:
We are doing the same thing as Rosa Parks did. We are standing up against bad laws which dehumanize us and destroy our freedom.

— Ammon Bundy (@Ammon_Bundy) January 6, 2016
That's right–he compared their armed takeover of a federal building to Rosa Parks, who is basically the poster lady for peaceful resistance. Bundy's group has made it clear that they're willing to be basically the opposite of peaceful, given that they've said that, "if force is used against us we will defend ourselves." Unsurprisingly, people are not happy with Bundy's delusional comparison, and took to Twitter with some sarcastic and poignant responses.  
Newly discovered photo of the #RosaParks bus-jacking of 1955… #OregonUnderAttack pic.twitter.com/zlgKuluHye — Goldie Taylor (@goldietaylor) January 6, 2016
#AmmonBundy should bone up on his history; particularly in the area of civil rights. #RosaParks didn't seek change via a gun-toting militia.

— Elgin Charles (@ElginCharles) January 6, 2016
Did someone named Rosa Parks get a $500000 government loan, arm herself, take over federal property & demand snacks? https://t.co/HE9RqazRj6 — sfpelosi (@sfpelosi) January 6, 2016
A list of people who should compare themselves to Rosa Parks: 1. Rosa Parks

— Virginia Montanez (@JanePitt) January 6, 2016
White people, we need to finally all agree that there is no context in the universe where we can compare ourselves to Rosa Parks. Just stop. — Andrew, 2016 Edition (@Truly_Defective) January 6, 2016
Cliven Bundy: "You know, black people was better off being slaves." Ammon Bundy: "Shut UP, dad, we're TOTES Rosa Parks!"

— GAIL SIMONE (@GailSimone) January 6, 2016
Rosa Parks and Ammon Bundy actually have a lot in common both human same number of arms and legs weakness for hats — Adam Serwer (@AdamSerwer) January 6, 2016
So, Ammon Bundy did accomplish one thing with his Rosa Parks comparison–he made himself even less likable.