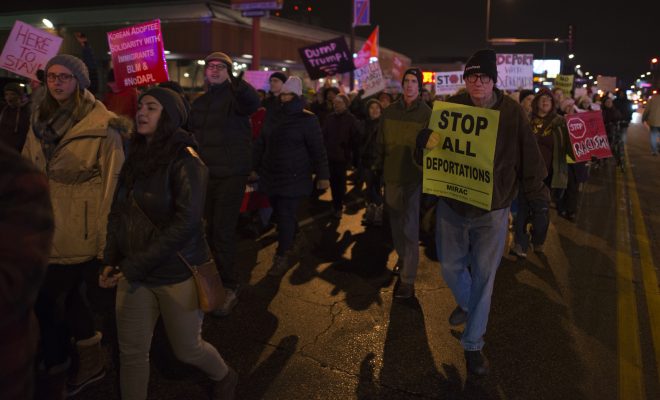 "March against Donald Trump begins" Courtesy of Fibonacci Blue: License (CC BY 2.0)
Society and Culture
D.C. Will Have "A Day Without Immigrants" Protest Tomorrow
By
|
Tomorrow, in the nation's capital, people will have a taste of what the city would be like without a vital part of its community. Immigrants across the city will either skip work or walk out of work to participate in "A Day Without Immigrants," as The Washingtonian reported.
"A Day Without Immigrants" is meant to put the economic significance of the immigrant community on full display and to protest President Donald Trump's recent immigration policies. The protest comes during a time in which stories about ICE raids have been reported across the country, including one instance in which a Mexican immigrant in Seattle who had previously been protected from deportation under the Obama Administration's Deferred Action for Childhood Arrivals policy was detained by ICE agents.
According to The Washingtonian, multiple well-known restaurants such as Compass Rose, Bar Pilar, and Pearl Drive Oyster Palace will stand in solidarity with their employees who are protesting, and will possibly close if they are too short-staffed.
Speaking to The Washingtonian, Compass Rose owner Rose Previte said, "We're just going to go with what we have that day and tell customers, 'This is what happens when immigrants don't come to work.'"
Multiple restaurants and restaurant owners have taken to social media to highlight their solidarity with the striking workers.
In solidarity with our immigrant tribe we will close for the day on Thursday for our staff to join in #ADayWithoutImmigrants.

— Busboys and Poets (@busboysandpoets) February 15, 2017
In support of our people & #ADayWithoutImmigrants Thurs 2/16 we will not open @jaleo DC CC MD, @zaytinya or @oyameldc #ImmigrantsFeedAmerica

— José Andrés (@chefjoseandres) February 14, 2017
Staff & customers from around the world are integral to our business & community. Kitchen will be closed Thursday #ADayWithoutImmigrants

— Ivy and Coney (@ivyandconey) February 15, 2017
Public and charter schools in the District will not be participating in the protest and will function on normal hours, according to The Washington Post. However, schools expect many of their teachers and staff members to participate in the protest.
The chief of schools for D.C. Public Schools, John Davis, sent a note to principals in the school system saying that while many people may participate in the boycott, school will continue as normal and staff and students are expected to be in attendance.

'We highly value and are committed to fostering a learning environment where staff and students feel safe and secure and we respect the right to self-expression and peaceful protest,' the letter says.
Some restaurants that have announced their solidarity with their staff members–like Meridian Pint, which is located in the Columbia Heights neighborhood–are located in areas of D.C. that have a high concentration of Latino immigrants.
The protest was spread through social media and flyers that have appeared around the city.
"A Day Without Immigrants" is similar to the "Day Without Latinos" rally held in Wisconsin yesterday. These rallies aren't the first immigrant-focused protests that have taken place since President Trump's inauguration. Earlier this month, Yemeni-owned bodegas around New York City shut down in protest of the travel ban.
For those targeted by the latest Republican divide & conquer, look around and remember this: you are not alone. @daywithoutlatinos pic.twitter.com/1vuF6QZ6Oa

— Chris Larson (@ChrisJLarson) February 13, 2017
In addition, on Friday, a "General Strike Against Trump" is taking place in cities across the country.