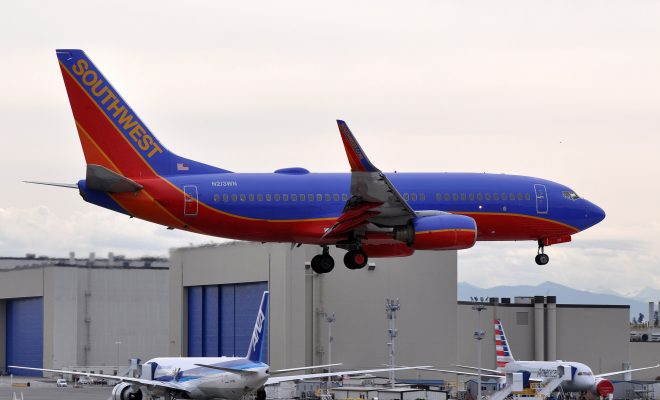 "N213WN" courtesy of [ERIC SALARD via Flickr]
Society and Culture
Complaint Filed Against Southwest for Incident with Arabic-Speaking Student
By
|
The Council on American-Islamic Relations (CAIR) filed a complaint on Wednesday against Southwest Airlines for kicking a Muslim man off his flight back in April for talking in Arabic, his native language. In the complaint to the Department of Transportation, CAIR calls for a federal investigation into the incident for what it believes was racial and religious profiling.
On April 6, 26-year-old political science student Khairuldeen Makhzoomi was sitting on the plane, talking on the phone with his uncle about a dinner with U.N. Secretary-General Ban Ki-moon the night before. He realized a woman was staring at him when he hung up the phone, and thought maybe he had been talking too loud. He had told his uncle about the meeting and ended the conversation by the common phrase "insha'Allah," meaning "God willing." The woman left the plane abruptly, and a few minutes later police officers came up to Makhzoomi.
Did you know Americans are not allowed to know Arabic? A new rule apparently created by airlines. 🙄 https://t.co/gxUanGbats

— Heidi N Moore (@moorehn) October 6, 2016
According to Southwest Airlines, the company does "not tolerate discrimination" but thought this was a legitimate reason to investigate a passenger. They wrote in a statement:
The internal review determined that it was the content of the conversation, not the language used, that prompted the report leading to the investigation. Our crew responded by following protocol, as required by federal law, to investigate any potential threat.
It is interesting that it was the content of the conversation that started an investigation, considering the only person who heard it was the woman who alerted the airline staff and the conversation was in Arabic. Southwest still has not apologized to Makhzoomi even though subsequent questioning by the FBI didn't come up with anything. He felt humiliated and had problems sleeping for days after the incident. He told CNN:
The guy who came and pulled me from the plane, he took me to the jet bridge, I believe he worked with Southwest and I must say he was aggressive in the way he treated me. He was not very nice. He tried to speak to me in Arabic, but I couldn't understand his Arabic, so I asked him to speak to me in English. I felt oppressed. I was afraid. He said, 'You seem that you were having a serious conversation on the phone. Who were you talking to?'
"Inshallah" = we hope in English, gets this guy thrown off @SouthwestAir flight. #Inshallah they get sued. https://t.co/Z4SIp2zirj

— Joyce Karam (@Joyce_Karam) October 6, 2016
After Makhzoomi told the man he was talking to his uncle about having dinner with the U.N. Secretary-General, he showed him a video of it on his phone. But the man asked, "Why are you talking in Arabic? You know the environment is very dangerous."
Following that, agents searched Makhzoomi, dogs sniffed his luggage, and his wallet was taken away. He was not allowed back on the plane and did not receive an apology. One agent even told him, "You need to be very honest with us with what you said about the martyrs. Tell us everything you know about the martyrs." He said he had never mentioned anything about any martyrs but said "God willing" when saying goodbye to his uncle.
Khairuldeen Makhzoomi came to the United States as a legal immigrant with his sister in 2010. He is a student at University of California, Berkeley, and is about to apply for his master's degree. He pointed out that he is very grateful for what the United States has provided him. But the incident in April shook him. He also said, "The U.S. is the land of freedom. People respect the rule of law. How could people be humiliated like this? That was the real shock. I lived under Saddam Hussein. I know what discrimination feels like."