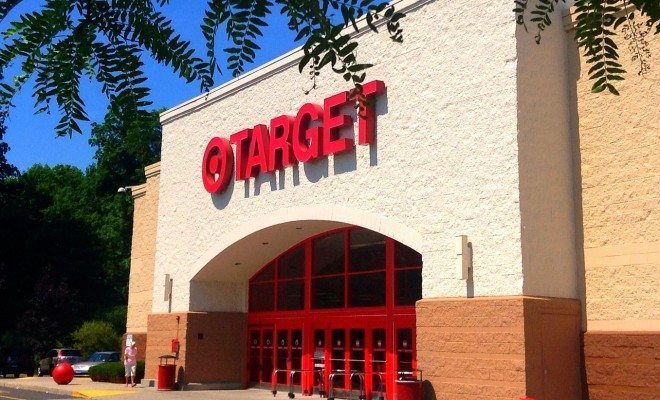 "Target" courtesy of [Mike Mozart via Flickr]
Society and Culture
#BoycottTarget: Backlash After Target Announces Inclusive Bathroom Policies
By
|
The fight over who can use which bathroom has a new battleground–Target. The retail chain announced it will allow individuals to use whichever bathroom matches their gender identity. Now, some are boycotting Target over that announcement, with the hashtag #BoycottTarget.
The announcement came on Tuesday, when Target posted a statement on its website. It explained the motivations for the policy, stating in part:
Inclusivity is a core belief at Target. It's something we celebrate. We stand for equality and equity, and strive to make our guests and team members feel accepted, respected and welcomed in our stores and workplaces every day.

We believe that everyone—every team member, every guest, and every community—deserves to be protected from discrimination, and treated equally. Consistent with this belief, Target supports the federal Equality Act, which provides protections to LGBT individuals, and opposes action that enables discrimination.
However, the American Family Association responded to this statement of inclusivity with a call to boycott the retail chain. The group's motivation appears to stem from the myth that predators will use the policy to prey on young women and girls in women's bathrooms. But there's little evidence to suggest that ever actually happens. As Aron Macacrow of Attn: explained:
When trans-inclusive bathroom policies are enacted, sexual assaults do not increase. What does increase is the safety of those in the transgender community. A

2013 study

found that 70 percent of transgender respondents were 'denied entrance, were harassed or assaulted when attempting to use a public restroom of their identifying gender.'
Yet, that hasn't stopped #BoycottTarget from trending; as of now, just under 400,00 people have signed the petition, and plenty of people are voicing their views on Twitter, and other forms of social media.
We are announcing boycott of @Target due to their dangerous bathroom policy. https://t.co/GQI0Oe8VAO #BoycottTarget pic.twitter.com/RB11tfeXDW

— American Family Assc (@AmericanFamAssc) April 21, 2016
@Target I have loved shopping at your stores: spent A LOT of money. No longer, though. Bathrooms are biological, not social. #BoycottTarget

— Cathy Knowlson (@Ckbeme) April 21, 2016
It's gone too far. @Target I used to be proud I once worked for you. #BoycottTarget pic.twitter.com/EUuAfwNmAO

— Proud Trumpkin (@MomBlogs4Trump) April 21, 2016
Why isn't @Target forced to provide a safe restroom for my daughter yet a baker is forced to bake a cake!?! WTH!?! #boycotttarget

— Jo Anne Smoot ºoº (@joannesmoot) April 20, 2016
It seems like with this boycott of Target, and in light of anti-LGBT laws recently passed in both North Carolina and Mississippi, this is a debate that isn't going to go away anytime soon.