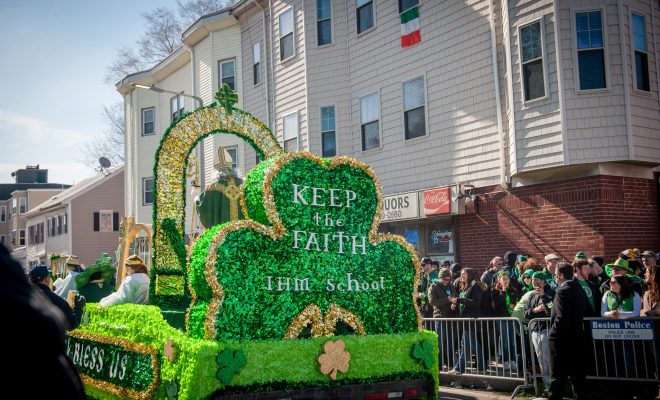 Image courtesy of Massachusetts Office of Travel & Tourism; License: (CC BY-ND 2.0)
Society and Culture
Boston St. Patrick's Day Parade Excludes LGBTQ Veterans, Prompting Backlash
By
|
An annual local tradition has turned into a charged political topic, after an LGBTQ veterans organization has been excluded from participating in South Boston's St. Patrick's Day parade. The parade organizer, the South Boston Allied War Veterans Council, voted  9 to 4 on Tuesday to not allow OUTVETS to march in the parade this year, scheduled to take place on March 19. The action sparked bipartisan backlash from politicians, organizations, and sponsors.
In a Facebook post, the group wrote that the Veterans Council "did not give a clear reason" for rejection of the application, but they assumed it was because it was an LGBTQ organization. The group was able to march for the past two years, but they allege that they were put in the rear of the parade last year.
The New York Times reports that Boston Mayor Martin J. Walsh (D) and Massachusetts governor Charlie Baker (R) will abstain from participating in the parade due to the exclusion.
I will not be marching in the St. Patrick's Day Parade unless this is resolved. #OneBoston pic.twitter.com/OalXJfZTQR

— Marty Walsh (@MartyForBoston) March 8, 2017
On Thursday, Anheuser-Busch announced that it is "re-evaluating" its participation in the event, potentially leaving the parade without one of its major sponsors. The Teamsters Local 25 Union also declared that its members would not be marching in the parade if the ban was upheld, saying that it was "no longer representative" of its 11,000 members.
In a press release posted to its website, the Veterans Council defended the decision, saying that the parade's Code of Conduct "prohibits the advertisement or display of one's sexual orientation," a rule which the group's rainbow flag violated. The Council claimed that the policy is "neutral and not one-sided," claiming that "the council routinely bars controversial groups from across the political spectrum." The release also claimed that OUTVETS submitted its application after the deadline.
This is not the first time that the parade has clashed with LGBTQ organizations. In 1995, in a case that went to the Supreme Court, the Council was allowed to exclude certain groups based on First Amendment grounds after it refused to allow a gay veterans group to participate.
On Thursday afternoon, it was announced that there would be an emergency meeting on Friday to re-vote on the decision.