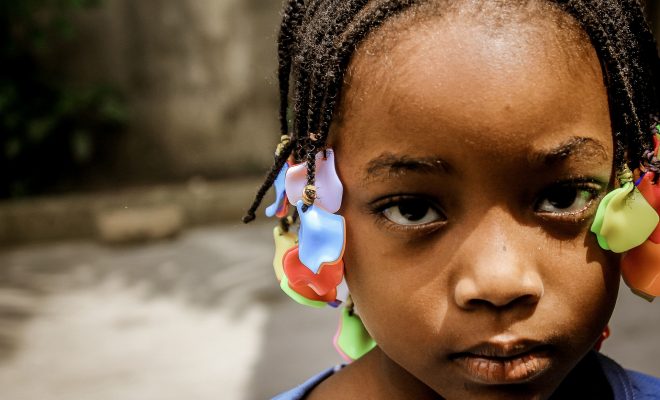 Image Courtesy of kassoum_kone: License: Public Domain
Society and Culture
Black Girls Perceived as "Less Innocent" Than White Girls Starting in Kindergarten
By
|
Even children aren't immune to racial prejudices. According to a new study from Georgetown Law, black girls between the ages of five and 14 are viewed as less innocent than white girls in the same age range.
Researchers surveyed 325 adults of various ethnic, racial, and educational backgrounds from across the U.S. The results reveal that black girls are viewed as more adult than their white peers at almost all stages of childhood, beginning most significantly at the age of five.
The report, Girlhood Interrupted: The Erasure of Black Girls' Childhood, was released by Georgetown Law's Center on Poverty and Inequality, and builds on previous research conducted by professor Phillip Goff in 2014 regarding adult perceptions of black boys. Goff found that starting at the age of 10, black boys are more likely to be perceived as older and guilty of suspected crimes than white peers.
Black girls are more likely to be disciplined at school. Have stories/thoughts to share? Join #girlhoodinterrupted chat tomorrow at 1pm EST pic.twitter.com/fV4v84nbbG

— Center on Poverty (@GtownLawPovCntr) June 28, 2017
"This new evidence of what we call the 'adultification' of black girls may help explain why black girls in America are disciplined much more often and more severely than white girls–across our schools and in our juvenile justice system," said Rebecca Epstein, lead author of the report and executive director of the center.
The Georgetown Law study is the first to focus on how people perceive black girls' innocence and maturity relative to white girls.
According to a report from the U.S. Department of Education on racial disparities in K-12, black girls are suspended more than twice as frequently as white girls. Black girls are also expelled without educational services at higher rates than white girls. In adulthood, black Americans are five times more likely to be incarcerated than white people.
A snapshot of the data shows that adults also believe:
Black girls seem older than white girls of the same age.
Black girls need to be supported less than white girls.
Black girls know more about adult topics than white girls.
Black girls need less protection than white girls.
Black girls know more about sex than white girls.
This information merely confirms long-standing beliefs for many within the black community. The researchers hope the data can be used as a call to action for policy makers and educators.
"These findings show that pervasive stereotypes of black women as hypersexualized and combative are reaching into our schools and playgrounds and helping rob black girls of the protections other children enjoy," said report coauthor Jamilia Blake, an associate professor at Texas A&M University.  "We urge legislators, advocates and policymakers to examine the disparities that exist for black girls in the education and juvenile justice systems and to pursue reforms that preserve childhood for all."